Flooding is the most common natural disaster in the U.S. today. For any homeowner, it can be devastating to come home to a flooded basement. At risk of damage are furnaces, water heaters, and appliances, not to mention carpeting, furniture and electronics if you have a finished basement. Flood cleanup is a massive and expensive project to undertake, and must be done quickly to lessen the chances of a major mold outbreak.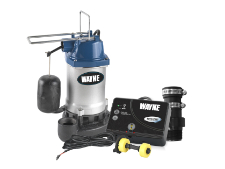 With most traditional sump pump alarm systems, the homeowner needs to be home to know there is a problem. Now, texting with your sump pump while you're away can actually save your property!
AdvanTEXT from Wayne Water Systems offers homeowners a way to receive the real-time information needed to take action before a flood occurs in their basement. It is the only sump pump system on the market today that uses cellular technology, not the internet or a landline, to send text messages instantly when there is a power outage or water problem.
AdvanTEXT goes directly from the sump pit to the cell tower and then to your cell phone, so notification is immediate. These real-time alerts allow you to take preemptive action such as calling a relative, neighbor or plumber for assistance. It's ideal for any homeowner, and perfect if you have a vacation home. And it's a two-way system, so you can send a text to the device at any time to get a status update.
Easy to install and operate, AdvanTEXT is integrated into a reliable Wayne 1/2HP sump pump so that both the alarm and the pump work through one power cord. The dual float system attaches to the discharge pipe in the sump pit. As the water rises and lifts the lower float, the system sends a text message to the homeowner that it has detected a high water level.
If the water keeps rising, it lifts the second float and triggers a second text sent to the homeowner. When the water goes back down, the system sends a third message telling you the system is back to normal. Likewise, when the power goes off for more than 10 seconds, the homeowner receives a text, and another text is sent when the power is restored. Just install four AAA batteries to allow continued text notification during a power outage.
Any phone that can send and receive a text message will work with AdvanTEXT. You can program it to send alerts to up to three phone numbers. If you happen to be home when rising water strikes in your basement, a loud 85 dB alarm will sound in addition to the text message alerts. AdvantTEXT is also available as a standalone device that can be used with any sump pump on the market.
The AdvanTEXT sump pump from Wayne Water Systems offers you peace of mind and the real-time information you need to take action before your basement floods, causing costly damage. For more information on AdvanTEXT as well as the whole line of Wayne sump pumps, utility pumps, pool pumps and sewage pumps, visit www.waynepumps.com.