You walk into the kitchen to prepare a baby bottle, but your hands are already full holding your little one. With just a few words, your smart faucet provides the perfect amount and temperature of water – no more balancing act. Later, you're rushing to get dinner prepared, but with a simple command, your pasta pot is being filled with exactly four quarts of hot water while you chop veggies – no more multitasking blunders.
Whatever your daily challenges may be, the U by Moen™ Smart Faucet offers convenience, precision and intuitive voice-activation technology to help complete tasks in the kitchen, while also offering a myriad of style options to suit almost any design aesthetic.
"Whether you're a mom juggling packed lunches while trying to get your morning coffee, a baker requiring precise ingredient volumes for recipes, or a multitasker that sometimes needs another set of hands, extra assistance in the kitchen can go a long way," said Michael Poloha, group manager, IoT, Moen. "Our team is dedicated to developing intelligent innovations that thoughtfully integrate technology to enhance people's everyday encounters with water, and the new U by Moen Smart Faucet delivers the connectivity and customization our consumers desire."
How the U by Moen Smart Faucet Works
Users are able to control their U by Moen Smart Faucet in four ways:
Voice control allows users to start and stop water flow as well as perform specific tasks on command through their digital voice assistants like Amazon Alexa and the Google Assistant.
A Wave Sensor positioned at the front of the faucet turns water on or off with a simple hand movement.
The handle on the side of the faucet offers manual operation, letting users adjust flow and temperature.
Through the smartphone app, users can set unlimited personalized presets or start and stop water delivery with the push of a button.
The U by Moen Smart Faucet is the only voice- activated kitchen faucet on the commercial market to offer voice- and hands-free activation regardless of the faucet's manual handle position. Voice service and hands-free control will start or stop the water flow, dispensing the desired temperature and amount, whether the faucet handle is in the open or closed position, and despite manual temperature selection with the handle.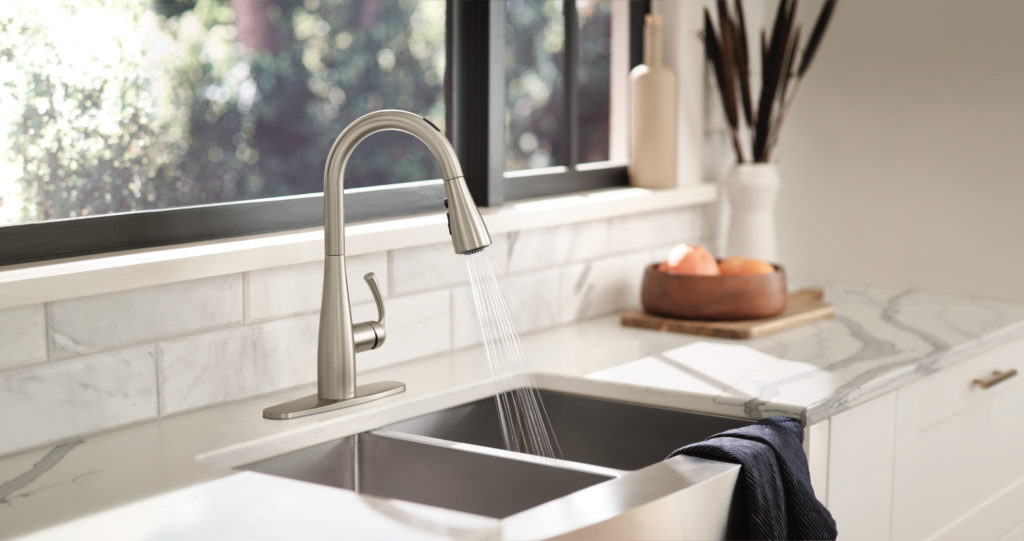 Activating with voice commands
To activate the U by Moen Smart Faucet, users simply ask Amazon Alexa or the Google Assistant to turn the water on or off, as well as dispense precise measurements and temperatures. Once they have created personalized presets in the Moen app, homeowners only need to state the name of the preset within the command.
Voice-activated capabilities include:
Metered dispensing in fractional metric and non-metric measurements from one tablespoon up to 15 gallons
Exact and generic temperature commands: "105 degrees" and "hot water" or "cold water"
Combined metered and temperature requests: "1/2 cup of 105-degree water" or "Two ounces of hot water"
User-customized presets created within the Moen app: "Baby Bottle" or "Dog Bowl"
Additionally, preheat commands will warm or cool the water to the desired generic or specific temperature, then pause the flow of water until users re-engage the faucet. As the water temperature changes, the hands-free sensor on the faucet will evolve from blue, purple and red, indicating the system is warming up or cooling down to reach the desired water temperature. When the water is ready, the sensor lights will stop flashing and turn solid.
Users will know the command has worked as the voice speaker will reply indicating the desired activity has been completed and the flow of water will start or stop.
A style for everyone
While it's not uncommon for smart home appliances have a modern-leaning aesthetic, the U by Moen technology is available on an unprecedented range of kitchen faucet designs and finishes to suit consumers' varying styles and budgets. Whether homeowners are designing a modern masterpiece or prefer to take a more traditional route, Moen has the perfect product to meet their needs, including:
Modern: Align® pulldown faucet, Nio™ pulldown faucet, Sleek™ pulldown faucet, STō® pulldown faucet
Transitional: Arbor® pulldown faucet, Essie™ pulldown faucet, Paterson™ pulldown faucet
Traditional: Brantford® pulldown faucet, Weymouth® pulldown faucet
Moen app offer smart faucet functionality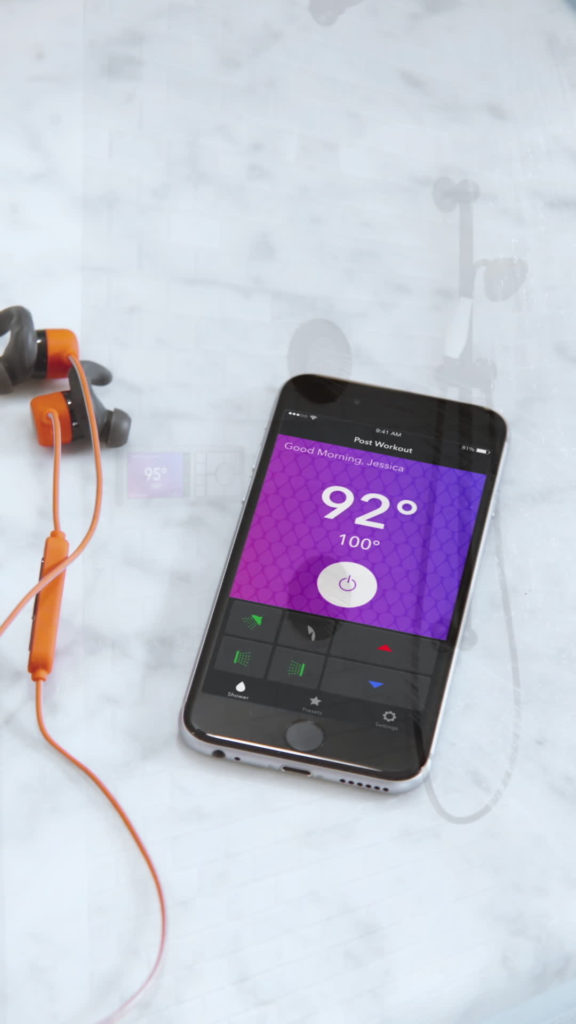 Users also can control their smart kitchen faucet through the Moen app, a whole home smart- water ecosystem that connects consumers to their water and allows control of their Moen
Network products in one platform – including the U by Moen Smart Faucet and Smart Shower, as well as the Flo by Moen™ Smart Water Shutoff and Smart Water Detector.
The Moen app allows for the creation of an unlimited number of presets to simplify operation, setting both temperature and volume to make voice commands easier.
Additionally, consumers' water usage can be monitored and communicated through the smartphone app to help homeowners understand their daily consumption so they can make changes, if they like, to improve their water footprint. Examples of information provided include historic data and recent interactions, reporting on the amount of water dispensed, at what temperature and the control method used to dispense it.
The Moen interactive iOS/Android™ smartphone app will be available as a free download on both the Apple App Store and Google Play Store.
The U by Moen Smart Faucet features Moen's best-in-class warranty* to ensure superior quality.
For more information about the U by Moen Smart Faucet collection, visit moen.com/smart- home or call 1-800-BUY-MOEN (1-800-289-6636).