MotionSense from Moen simplifies everyday tasks with a hands-free kitchen faucet experience that responds to users' simple hand movements to activate water flow. MotionSense allows you to wash hands, clean dishes and prepare meals with greater convenience and water savings, and reduce the risk of cross-contamination and spread of germs.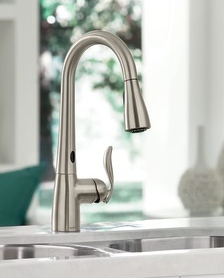 To accommodate a range of uses, MotionSense offers three ways to turn on equipped kitchen faucets. A Wave Sensor at the top of the faucet starts and stops the water flow with a simple hand movement above the faucet itself. The Ready Sensor near the base of the faucet identifies when an object, like a cup or the user's hand, is placed beneath the spout, and runs water for as long as that item remains in the sensor's range. And the handle on the side of the faucet offers familiar manual operation. Powered by a battery pack utilizing six standard AA batteries or by an optional AC adapter, MotionSense faucets include an LED indicator light that signals on and off modes, as well as low battery power. The special MotionSense valve design supports both manual and digital modes, even when the handle is in the "off" position and the faucet loses battery charge or power.
Moen's Arbor pulldown kitchen faucet is the first to offer MotionSense, with transitional styling and a choice of Chrome, Oil Rubbed Bronze or Spot Resist Stainless finishes. It includes Moen's Reflex system for improved overall hose and sprayer operation, and a multi-function pulldown wand with aerated spray, stream and pause features. Arbor with MotionSense's pre-assembled components and simple push-fit connections make for easy installation, and a five-year warranty covers electronics while a Lifetime Limited Warranty covers all finishes and mechanical components.
Learn more about Moen MotionSense faucets at www.moen.com.