The holiday season can be busy and stressful, with a lot of time spent bustling around the kitchen preparing big meals for friends and family. Why not make it all a little easier for yourself with a kitchen faucet that's convenient — and stylish too?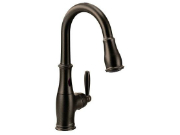 Moen has expanded its popular and easy-to-use MotionSense technology to include the Brantford pulldown faucet, providing performance on demand and timeless appeal that gives any kitchen a beautiful look.
Faucets with MotionSense utilize advanced sensors to detect movement in two sensing zones, setting water flow in motion without a single touch. With MotionSense, tasks like washing dishes, filling a glass of water and preparing a meal are simplified. It's like having a second set of hands in the kitchen — perfect for when your hands are too full or too dirty to turn on the faucet.
The Wave Sensor at the top of the faucet starts and stops the water flow with a simple hand movement above the faucet. The Ready Sensor near the base of the faucet identifies when an object — like a cup or your hand — is placed beneath the spout. It runs water for as long as that item remains in range and automatically shuts the flow off as soon as the object is removed from the sensing zone. For manual operation, the handle on the side of the faucet lets users adjust flow and temperature.
The versatile sensor control offered by MotionSense makes it surprisingly easy to accomplish a variety of routine tasks with speed and efficiency. Plus, the hands-free technology virtually eliminates the need to touch the faucet, helping to reduce the spread of germs.
Another benefit of MotionSense is the opportunity to save water in the kitchen. The Ready Sensor will automatically supply water only when an object or hands are within the sensing zone — reducing the possibility of leaving the faucet running when not in use.
The Brantford faucet with MotionSense also features Moen's Reflex system, which offers self-retraction of the wand, as well as an exceptional range of motion, generous reach and secure docking. Brantford is available in Chrome, Oil Rubbed Bronze (pictured) and new Spot Resist Stainless finish.
So give yourself the gift of a faucet that makes preparing big holiday meals more convenient and less stressful with hands-free water flow, while also making it easy to save water and reduce the spread of germs. The Moen Brantford pulldown kitchen faucet with MotionSense provides all that, and traditional style to complement a variety of décors. Suggested retail pricing starts at $640. Visit www.moen.com for more information.