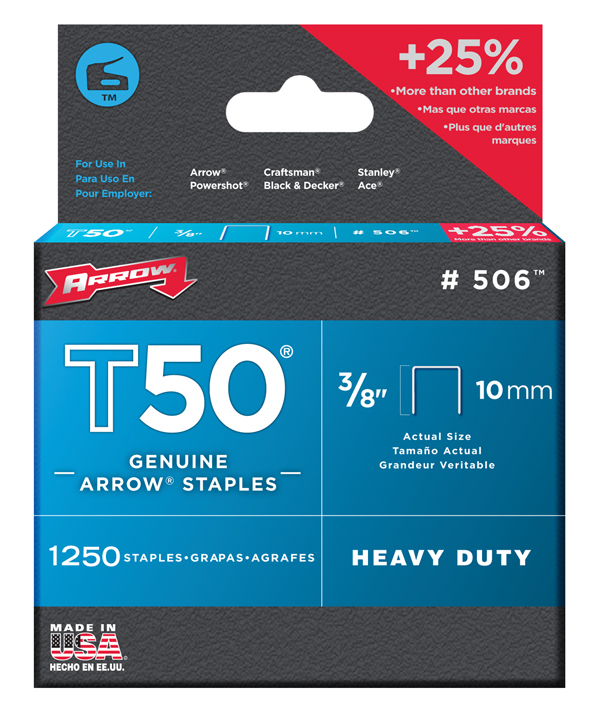 Every home improver has a favorite go-to tool, one that's reliable, handy and always there when you need it. For me, that tool has been a staple gun, because you can do so many things with it, from installing insulation to upholstering headboards. However, the whole system falls apart if you don't choose the right staple for the job.
There is a wide variety of staples available today, and the pros at Arrow Fastener gave us the lowdown on selecting the correct size for each project.
Figuring out what staple to use might seem overwhelming, but Arrow aligns staples with each gun to make the process easier. The first step is to think about the materials you will be working with for the job. For example, if you are re-upholstering a vintage chair, you'll likely be using a velvet fabric and Arrow's T50®staple gun.
There are six sizes of staples that work with the T50 gun. As a rule of thumb, you'll want to make sure the material you are fastening takes up about ½ the size of the staple leg. Since velvet is a thicker material, you will need a longer leg staple. Arrow recommends a 3/8″ to ½" staple for this fabric. You will also need to consider the properties of the wood that the furniture is made of. For harder woods, choose a shorter staple leg length for more holding power.
However, not all projects require a heavy duty staple. Arrow offers medium duty round crown staples for installing wiring and coaxial cable. They also offer insulated staples for jobs that require a bit more delicate treatment, such as electrical wiring. Plus, insulated staples are easy to remove for temporary jobs like your holiday lights. Arrow also offers thin wire and plier staples, as well as stainless steel staples for outdoor projects where rust is a concern. With the right staple in your gun, you'll be ready to tackle any project that comes your way.