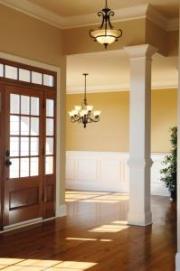 A room is just a room until you add some amazing trim details that completely change the look of your space. Crown molding, baseboard, chair rail, decorative trimming panels, and wainscoting all fall into that icing on the cake that is your home category and can really make your home look beautifully finished. Don't let the idea of adding trim scare you–not all molding projects require mitering at the corners. There are many different accessories for molding projects that make it a lot easier to accomplish for any skill level. Crown molding can be achieved with corner pieces to cover to straight runs of the trim that create a finished corner detail. Crown molding is available in many different heights and profiles to fit every architectural style of home. It will also make your room appear taller and give the space a polished look.
A dining room looks beautifully detailed with chair rail, a trim piece applied about 1/3 of the way up from the floor, about 32″ – 36″ for an 8″ ceiling. For placement of the chair rail you could also place a dining chair against the wall and mark the height where the chair back would hit the wall. To really finish the look of the room you can add rectangular frames of trim to the area above the chair rail or smaller square ones below for a truly elegant dining space. The center of the trim framed areas could be painted the same color of the wall or an accent color for a well designed look.
Wainscoting is a great design choice for homes that have a more coastal or country feel and looks crisp and fantastic when painted a glossy white. Wainscoting is the application of bead board along your wall and is usually as high as a chair rail would go up your wall; however it can really go as high up the wall as you like, depending on the look and use of the room. It is usually capped off at the top by a simple chair rail molding or a shallow leaner ledge. Applying your trim details couldn't be easier when using your Arrow EBN320 Electric Brad Nail Gun with 2″ brad nails. It gives you the depth of fastener you need for the project with the comfort in use you expect from Arrow.
These are all great projects that definitely change the look of a room with not a lot of effort.