Garage floors need to be one of the most durable floor surfaces in any house. They have to take the punishment of hot tires on vehicles parked in the summer or dripping road salt in the winter. And in between those extremes, garage floors serve as the prime storage spot for a host of household possessions, tools and home maintenance products. That's why choosing a tough, durable and slip-resistant garage floor finish is key to creating a surface that can really stand up. The DaiHard 100 Garage Floor Epoxy Kit is an all-encompassing product that can do just that.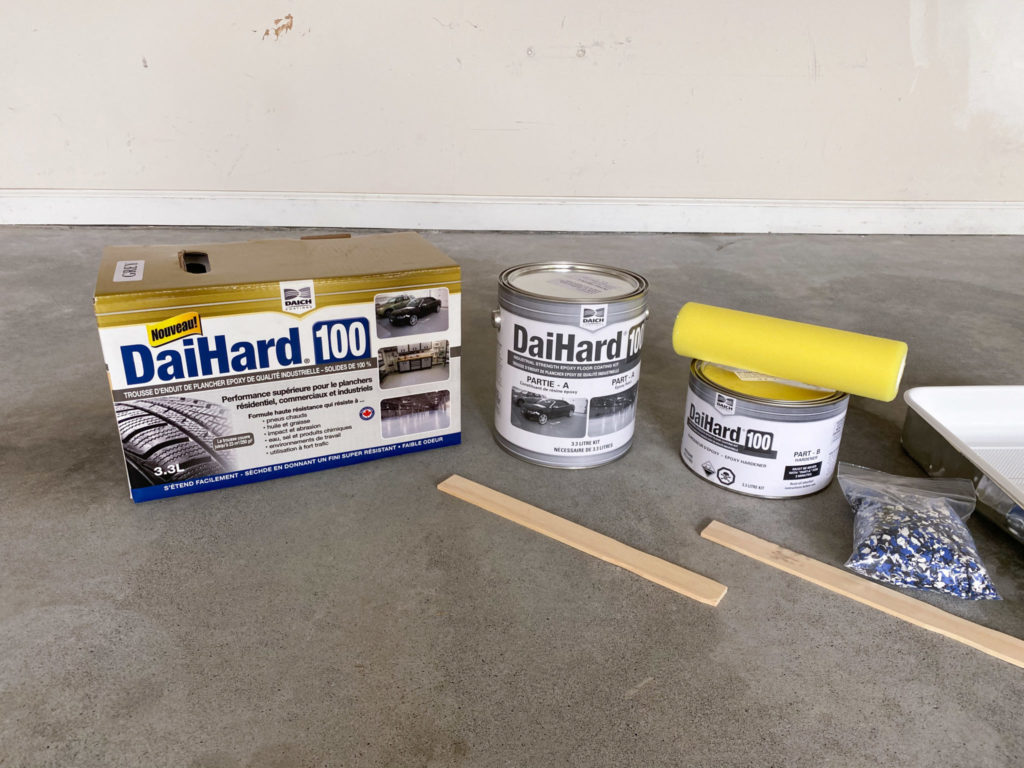 DaiHard 100 is available in gray or tan. The roll-on floor coating refreshes and rejuvenates concrete surfaces. The epoxy resists salt and chemicals, plus has no hot-tire pickup. Once applied to a clean concrete surface, the strong epoxy coating locks onto interior concrete floors with exceptional adhesion capabilities. The low-odor, zero VOC epoxy delivers professional-grade, heavy-duty performance. It also resists spills and impact.
Before You Begin
DaiHard 100 Garage Floor Epoxy Kit is priced below $90 on The Home Depot®, Lowe's® and Daich Coatings websites. The kit is a two-part finishing system where epoxy resin and hardener are combined and then applied to the surface with either a roller or squeegee application.
One coat generally covers an area of 250 square feet and everything you need to prepare and apply the product is included:
Concrete Cleaning Crystals to loosen dirt on the floor before applying the epoxy
2.7 quarts of DaiHard epoxy resin (part A of the formula)
One quart of DaiHard epoxy hardener (part B of the formula)
Decorative Flakes
Stir Stick
Cleaning and Prep Key to a Successful Application
Cleaning and prep work is everything for a project like this. There are a variety of ways to prepare your garage floor for application of the new finish. If the floor hasn't been previously painted, it can be cleaned and readied for a new finish to be applied. However, if the floor has been previously painted, it's best to "peel back" the layers and get down to the original concrete floor surface. Then "build it back up" again with a reliable, industrial-strength epoxy floor coating.
If you're tackling it yourself and not fortunate enough to have access to commercial equipment, the process is still pretty easy — even for a novice DIYer. Here are the prep steps needed:
Step #1 – Remove everything from the floor of the garage.
Step #2 – Use a pressure washer to loosen and remove surface dirt from the floor.
Step #3 – Dissolve the Concrete Cleaning Crystals in 2 gallons of water or a strong TSP (trisodium phosphate solution).
Step #4 – Scrub the surface with the solution to remove dirt, oil, grease and other chemicals. A second scrubbing may be required for more soiled or impacted floors.
Step #5 – Rinse surface fully. Remove all the rinse water with a wet vac and then let dry completely, at least for 24 hours.
Step #6 – Once dry, vacuum off any loose debris. If a moisture meter is available, make certain the flooring is below 12% moisture content before proceeding.
Mixing the Epoxy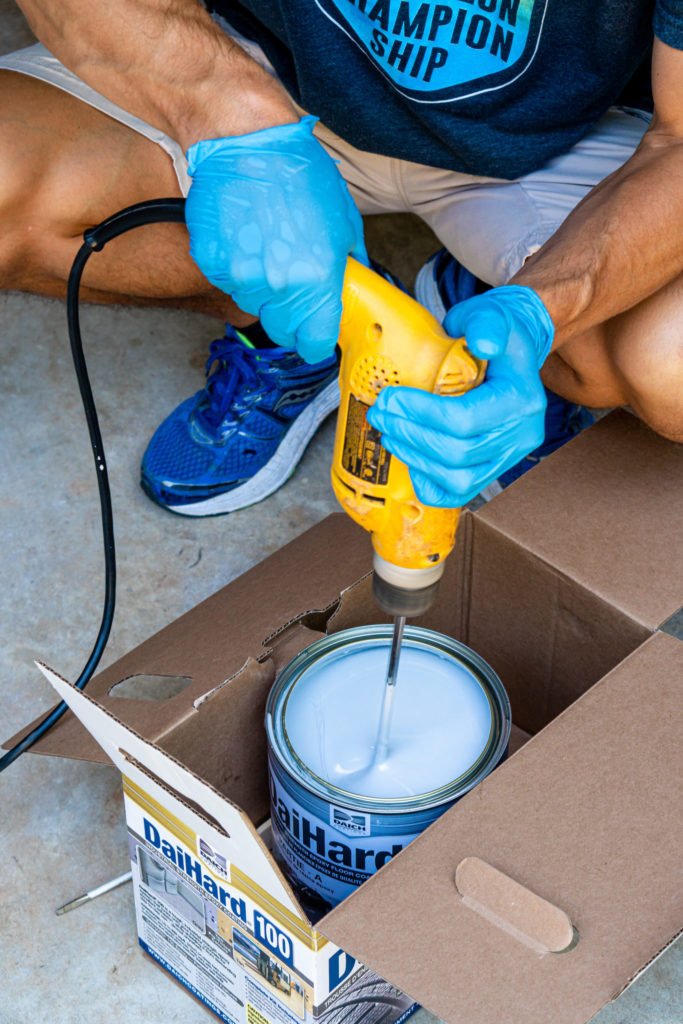 Step #7 – Mix the Part "A" epoxy base for about 30 seconds before blending with the Part "B" hardener. Pour the entire contents of Part B into the Part A container, scraping the sides and bottom of both containers to ensure that all is incorporated during the mixing process.
Step #8 – Stir the combined mixture for 3 minutes. Use a drill mixer on medium speed for best blending. Immediately after blending, begin application.
Applying the Epoxy Garage Floor Coating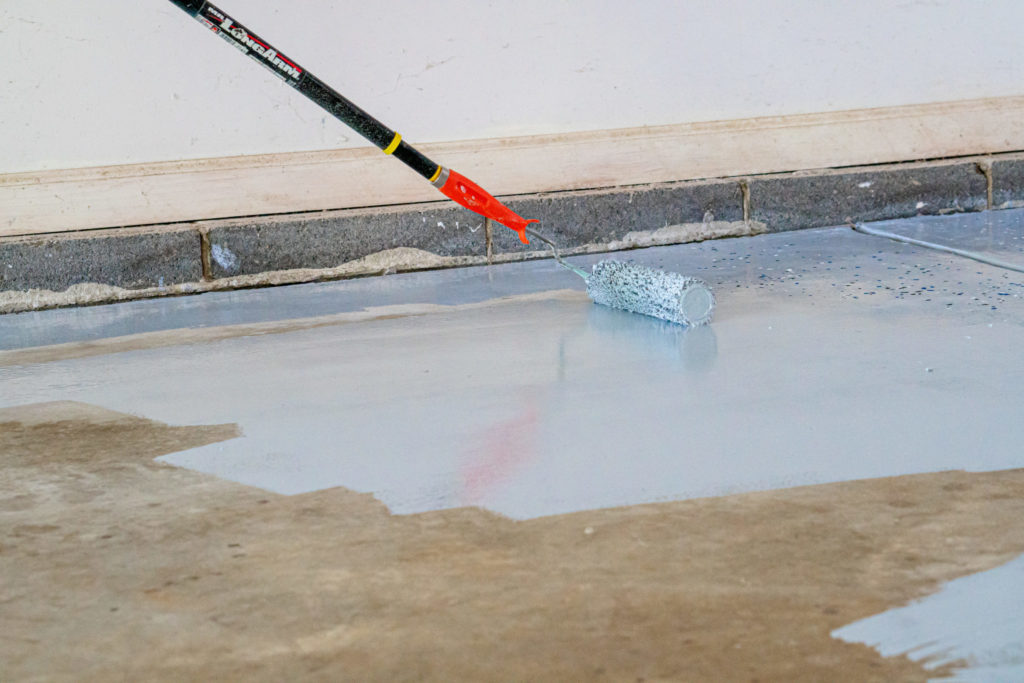 Step #9 – Immediately pour the activated epoxy into paint trays and begin the roller application (using a 3/8" roller) OR pour some mixed epoxy directly onto the floor and spread it out with a squeegee applicator in manageable 100 square foot sections. Backroll with a 3/8" nap roller to even out the coating. (For more specific details on this step, download the installation instructions HERE.)
Step #10 – Continue the coating process until all the mixed epoxy is applied. Do not overwork the applied coating or disturb already applied sections as this may insert air bubbles or impact color uniformity on the dry finish.
Step #11 – If you desire a slip-resistant surface, sprinkle a light and uniform layer of Decorative Flakes into the wet epoxy as you move along to create a light surface texture.
Before…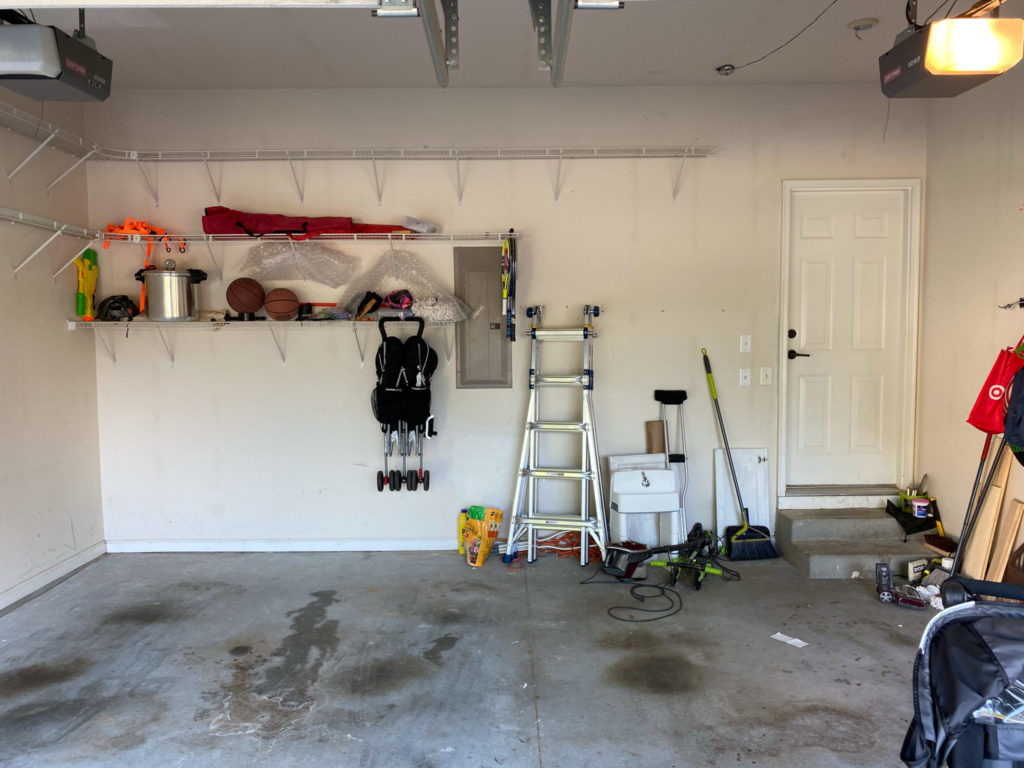 After…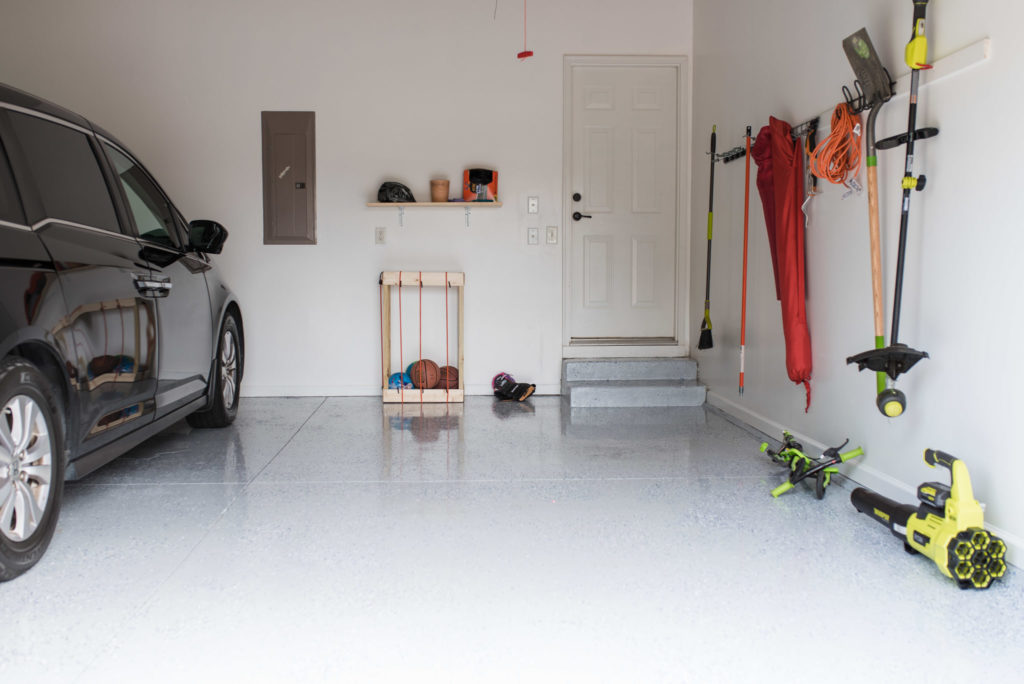 Final Tips for a Perfect Finish
Tip #1 – For most residential garage floors, one coat is all that's needed. Optionally, after about 6-8 hours (or before 24 hours have passed) you can also apply a second coat at the same thickness over the surface to lock down the additive and complete the floor finish.
Tip #2 – Ambient air, material and floor temperatures are all important factors which will determine the "pot life" and work time of the blended epoxy coating. Download the online instructions for more specific details.
Tip #3 – If you're looking for a high-gloss showroom finish, it's easy to get. Order the DaiHard 100 Industrial Strength Epoxy Clear Coat and apply it over the top of the broadcasted flakes about 24 hours after the epoxy has set.
For installation videos and more details on this project, go to www.DaichCoatings.com.