Match a new room color scheme or update it in a snap with Renu wiring devices from Leviton. Available in 20 different colors, Renu switches, outlets, GFCI outlets, dimmers and wallplates work with an innovative color change kit for simple updating as you redecorate.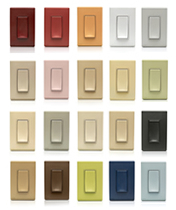 Color choices for wiring devices are traditionally limited to white, ivory, light almond or brown. But with Renu, you can choose from a spectrum of colors, and once installed, the change kit allows you to update to a new color without removing the whole device. Renu wallplates are also screwless, easily removed for cleaning, and textured to help mask finger marks. In addition to 20 designer colors, Renu wallplates are available in a stainless steel look.
The Renu line is available at select Home Depot locations, as well as via Amazon and the Leviton e-store. Plan your switch to a new color scheme and see the Renu color change kit design in action at www.leviton.com/renu.