Electrical fires pose a huge danger to families and their homes, and many are caused by a hazardous condition called an arc fault.
Some 47,700 home structure fires reported in 2011 involved some type of electrical failure as a factor, according to the U.S. Fire Administration. These fires caused 418 civilian deaths, 1,570 civilian injuries and $1.4 billion in property damage.
Arc faults are the main type of electrical failure leading to fire, according to the National Fire Protection Association. An arc fault is an unintentional arcing condition in a circuit. Arcing creates high intensity heating, resulting in burning particles that can exceed 10,000 degrees Fahrenheit. Over time, these may ignite surrounding materials such as wood framing or insulation.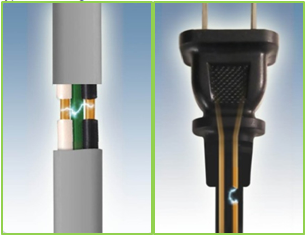 Often unseen, arc faults can occur anywhere in the home's electrical system. A wide range of situations can cause arcing. These include natural deterioration of older wiring, humidity, or even animals chewing through the wiring. Other causes include nails from construction or picture-hanging puncturing wires through a wall, or wires being pinched by furniture.
How can you help protect your family and home from electrical fires? Leviton's SmartlockPro Outlet Branch Circuit (OBC) Arc Fault Circuit Interrupter (AFCI) Receptacle is the industry's first outlet designed to detect many types of dangerous arcing conditions and respond by cutting off power. By installing one of Leviton's AFCI outlets for every circuit in your house, you'll be protecting your entire home.
The outlets are very affordable at less than $30 each, and for the typical DIYer, it's just like installing a traditional outlet. AFCIs are now required by the National Electrical Code (NEC) in many areas of the home, including bedrooms, family rooms, dining rooms, living rooms, sunrooms, closets and hallways. Current editions of the NEC require that an AFCI breaker must be a combination type. Leviton's product fits the bill by protecting against both series and parallel arcing.
Leviton's SmartlockPro OBC AFCI Receptacle provides a sensible alternative to arc fault breakers. The device's TEST and RESET buttons offer the convenience of localized control so there's no need to examine the circuit breakers.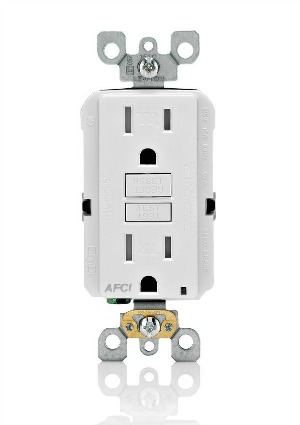 Leviton's AFCI outlet features the brand's patented reset/lockout technology, which automatically tests the AFCI every time the RESET button is pushed. The AFCI will not reset if the circuit is not functioning properly. This reduces the possibility of homeowners incorrectly assuming that a reset AFCI is providing protection when it is not.
Leviton AFCI outlets are tamper-resistant to meet the latest NEC child safety requirements. The shutter mechanism inside the outlet blocks access to the contacts unless a two-pronged plug is inserted. The device also meets Underwriter Laboratories Standard 1699, the definitive standard for AFCIs, and comes with a two-year limited product warranty.
Offered in white, ivory, light almond, gray, black and brown, the Leviton SmartlockPro OBC AFCI receptacle is compatible with Leviton's complete line of signature Decora wiring devices and wallplates, and is available for purchase at The Home Depot or Amazon.com.
Leviton is the brand most preferred by builders and electrical contractors. For more information on Leviton's SmartlockPro OBC AFCI Receptacle, visit www.Leviton.com/AFCI.