Table of Contents

[Hide]

[Show]
The right lighting makes a difference in any space, and a new lightscape is a simple way to spur a romantic makeover for your bedroom, dining area or living room.
Several elements can be adjusted to improve what you already have, or a few can be added to change the room's lighting scheme and mood. Here are the components to consider as you cast romance in a new light.
Placement of lighting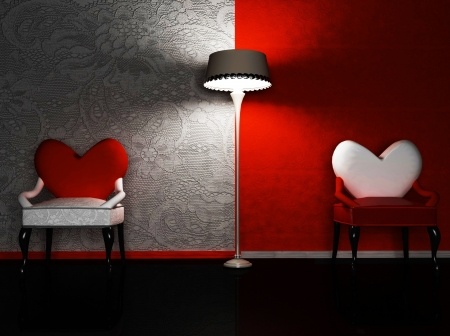 Create the right balance with a smart combination of light fixtures. Overhead lighting fills the room at whatever setting you choose, comfortable task lighting can be stationed near furnishings, and accent lighting can enhance the architectural features of a space.
Best light fixtures
Select fixtures that support your lighting scheme in terms of both wattage and style. Luxe chandeliers and rustic retro lamps are just a few of the design directions you can take, and the color and fabric of lampshades also have impact.
Light color is key
Consider the actual color of light that's cast, because not all bulbs are created equal, and they're not meant to be. Light bulbs are available for a range of color effects, from cool to warm and daylight to soft light. So, pay attention to package labeling as you shop to get the right results for your room.
Strategic dimmers
Add dimmers to existing or new fixtures for one-touch lighting control and an instant change of mood.
Use natural light
Skylights can make a beautiful addition to your romantic lighting scheme, adding soft natural light during the day and early evening, and a view of the stars at night. For natural lighting in tight spaces, try installing tubular skylights—they'll cast a strategic halo in your redesigned room.