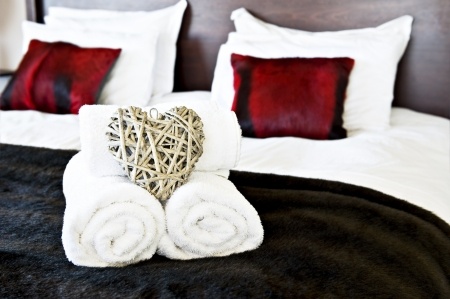 Want to transform your bedroom into a more romantic, restful sanctuary? Look to the hallmarks of the master suite. With a few easy changes, you can give a bedroom of any size the feel of a sweet suite without the dear price tag. Choose some or all of the following elements to create a beautiful, personal bedroom space.
Color cues: Set a restful tone with subtle neutrals or soft, cool blues and greens, or use deep, rich hues to make a glamorous statement. Use paint creatively to open up a small space, define it or design a special highlight like a headboard-wall.
Better bedding: Invest in high-quality bedding from sheets to shams. Plush pillows, cozy blankets and down duvets all add luxury, and selecting the best will give you years of comfort and value.
Tactile textures: Continue to build your master suite style through upholstery, accessories, flooring and window treatments. Styles ranging from rustic to luxe come through in the textures you highlight and contrast within a space.
Light effects: Create the mood with strategic lighting choices. Add dimmers for central fixtures, select comfortable bedside lighting, and use light to enhance and add drama to architectural features.
Transformational furnishings: All master suites combine multiple living spaces into one, and you can accomplish the same on a smaller scale with furnishings. A slipper chair and low side table become a lounging spot, an upholstered bench defines a dressing area, and an antique table or secretary desk carves out a correspondence corner.