Adding or replacing a range hood is a great way to update the kitchen and improve your indoor air quality. There are plenty of range hoods on the market today that can fit with any style and budget. Replacing a range hood is an easy Saturday afternoon project for the average DIYer. For as little as $200, you can dramatically change the kitchen's environment.
Choosing the right range hood is easier than you may think, but there are a few things to consider when picking the appropriate range hood for your home. Here are some factors to help guide your decision, no matter what your style or budget, from range hood manufacturer
Broan-NuTone
.
®
Style
. A range hood can make a big difference in a kitchen no matter what your current kitchen looks like. There are a variety of range hood designs on the market today that can accommodate your style of cooking and the current style of your home. Styles include under-cabinet range hoods that allow for more cabinet space, wall-mounted chimney hoods that can add a European flair, pro-style hoods for the more professional cooking center and custom systems that can be concealed inside cabinet or mantel designs.
Operating Performance
. The range hood can help ensure indoor air quality better than any other
appliance
in the kitchen. While some kitchens are designed with either re-circulating hoods or hoods incorporated into a microwave/hood unit, the best choice is a range hood that ducts to the outside. According to a number of leading organizations including the
Home Ventilating Institute
(HVI), and the
Environmental Protection Agency
(EPA), exhausting pollutants and moisture from the home is one of the best ways to ensure better IAQ. Pollutants from cooking, as pictured below left, can linger for days before settling on surrounding surfaces, tarnishing cabinets, discoloring wall finishes and leaving unwanted odor in the home. The right range hood can help exhaust these pollutants to the outside, making for a healthier home.
CFM (Cubic Feet per Minute) is the standard measure for a range hood exhaust capacity. Look for certified ratings like HVI to assure the rating is accurate. A simple rule of thumb for assuring adequate CFM for most applications is the following:
300 to 350 CFM for 30- to 36-inch wide conventional cooking appliances…increase for wider models.
500 CFM or more for cooking appliances that are classified as high performance or professional style.
Make sure the duct size between the hood and outdoors is equal to the outlet of the hood.
Sound.
Wouldn't it be nice to actually hear your guests while you are operating the range hood? Be sure to remember that not all range hoods are created equal. Many hoods say they are quiet, but you really should rely on certified ratings and Sone levels. The lower the Sone level, the quieter the hood will be. When selecting a range hood, look for multiple speeds (three or more) with the lowest Sone number at normal operating speed. If you are currently operating your hood on high all the time, it is a possible indicator that the range hood is inferior for your application and you should seriously think about replacing it.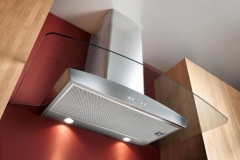 Ease of Cleaning. Cleaning your range hood, just keeps getting easier. Be sure to look for a clean, efficient design with smooth surfaces and fully-enclosed bottoms that help to reduce grease buildup. Additionally, easy-to-release, dishwasher-safe filters allow for easy, less frequent cleaning.
Technology and Controls. High-tech features have been integrated into range hoods, just as they have with many home appliances. And these "smart" controls are now available on many range hoods, not just with high-end hoods. Some hoods even offer automatic heat sensors – allowing the range hood to turn on by itself when it detects an abundance of heat or particles in the air. Additionally, as more people are staying in their homes as they age, a convenient remote control can be included to allow for easier operation. Be sure to also consider an advanced electronic touch panel with a clock and timer.
Range Hood Lighting
. With the cooler months ahead and the holiday season demanding more homemade fare, you will most likely be cooking more indoors and good
lighting
can make a big difference. The range hood should be able to provide you with lighting evenly distributed over the entire cooking surface, helping you to actually see what you are cooking! Even with baking, the oven light can never fully illuminate the cake, pie or casserole inside the oven, making enhanced range hood lighting even more essential when checking your creation. Be sure to select a range hood with enhanced lighting capacity, such as the example pictured right. The best models have lighting systems with four halogen lights that are focused on the cooking area of the range, doubling the illumination of the cooking surface. Additionally, automatic light sensors are available for nighttime safety – eliminating potential bumps and bruises when satisfying a midnight snack craving.
Price. What is your budget? There are a variety of hoods on the market today that are designed to meet any budget and fit any home's decor. Be sure the hood is HVI-certified, which ensures consumers receive the rated CFM level that is promoted.
Adding or replacing a range hood is a great way to update your kitchen and improve the air quality in your home. For more information on choosing the right range hood for your style and budget, as well as information about Broan products, visit
www.Broan.com
.