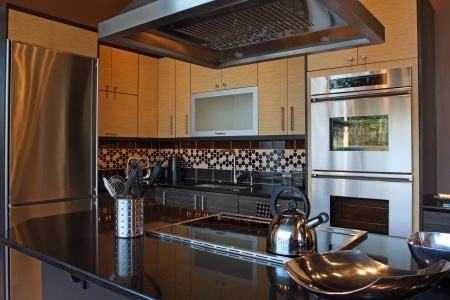 If you played host for Thanksgiving, you know exactly what a difference kitchen ventilation can make—or what it could have made, if only your range hood had been up to the task. The right range hood doesn't just make cooking more pleasant, it also improves the air quality of your entire home. So now is a great time to replace yours, ahead of more holiday cooking and day-to-day time indoors.
In addition to removing cooking odors, a range hood whisks away grease, moisture and such pollutants as carbon monoxide and nitrogen dioxide. And instead of filtering and recirculating air in the kitchen, it should duct to the outside in order to carry exhaust and odors completely out of your home for a healthier environment inside.
It's also possible to find a hood that works quietly while you're carrying on a kitchen conversation. Look for certified sound ratings and sone levels (one sone is equivalent to around 40 decibels). The lower the sone level, the quieter the range hood will be; just make sure to double-check sone levels for all fan settings before you commit.
In other range hood features, dishwasher-safe filters make maintenance easy, and sensor lighting provides safety when you're prowling for a midnight snack. Whether your range hood update is a replacement or upgrade, the variety of designs on the market means you can accommodate both your kitchen's style and your year-round cooking routine with healthy, effective results.