Tom Kraeutler: Welcome to this edition of the Money Pit's Top Products podcast. I'm Tom Kraeutler. We're going to tell you today about an ingenious product that we've just discovered here at the 2014 National Hardware Show called Smart Tape. What makes this tape so special is that all measuring marks are on the tape already. You can write on it and drill through it so it stays in place during your entire project. Here to tell us more is Bill Boyer from Smart Tape. Hi, Bill.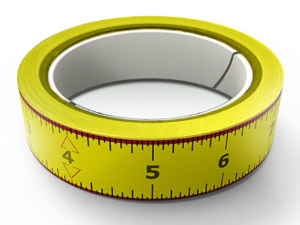 Bill Boyer: Hi, Tom. Thanks for having me.
Tom Kraeutler: This is a pretty interesting approach to tape. I guess the best way to describe it is it's about the size of a roll of masking tape, except it has all of the indications of a ruler on the tape itself. How'd you come up with this?
Bill Boyer: I'd love to take credit for it, but I'm not the inventor. Gary Dresslor's the inventor. He couldn't be here today. Gary is a woodworking craftsman by trade. He's a loner by nature. He was frustrated because many times he would need to use measuring tape and he'd have nobody for the other end to hold it. Of course, you'd have that unintended retraction, right?
Tom Kraeutler: Yes.
Bill Boyer: That's the frustration that borned the product. Over three years of development, it looks like very simple product, but the devil is always in the details. We had to get the release coat right, the marking s rght, you obviously can't have a stretchy material in a measuring device.
Tom Kraeutler: That's what I thought about when I first read about this because we've all used tape and we know that tape stretches because it conforms to curves and so on. With measuring, you can't have it stretch.
Bill Boyer: Right. We had to high and low and found a provider of the base material. Not to get too techy, in a tensile test, it's .03% stretch before it breaks. It's very [crosstalk 00:01:30].
Tom Kraeutler: How are your consumers using the product? What's the most common uses for it?
Bill Boyer: The biggest market challenge we've had is what you can't use it for. The best way I can say it is anything that you're currently using a retractable traditional measuring tape for, Smart Tape can do it better and easier, but at retail, picture frame departments are just selling it very fast. In the CE category, installation of brackets for your TV, it helps make that job a lot of easier. Instead of writing on the wall, you're writing on the tape.
Tom Kraeutler: That's my next question. It pulls off the wall without damaging the paint surface?
Bill Boyer: Right, another one of those devils in the details. It took us a couple years to get the release coast just right so it only comes off when intended, without taking anything off that wasn't intended.
Tom Kraeutler: It you're going to hang a set of maybe three pictures on the wall and typically, you're trying to measure a distance of 10, 12 feet to get the spacing just right. With Smart Tape, you rip off a piece, apply it to the wall, and then do all your markings on the tape itself, do all your math off sight, so to speak, and then you just indicate on the tape. You can, like you say, drill right through it, nail right through it, and then peel it off right through those fasteners?
Bill Boyer: Correct.
Tom Kraeutler: That's brilliant.
Bill Boyer: In that particular application, what we would suggest is doing a access. One tape vertical, one tape horizontal.
Tom Kraeutler: Yeah, to get it just right. Where is Smart Tape available?
Bill Boyer: Smart Tape is available obviously on Amazon. We have our own website Ecommerce. This is our very first trade event, so at retails, we're in some Southern California Ace stores. We hope to build on that.
Tom Kraeutler: What kind of reaction are you getting here at the National Hardware show to Smart Tape?
Bill Boyer: The very first reaction that we get 80% of the time is, "Wow. Why didn't I think of that?" Which is what I said when I saw the [crosstalk 00:03:02].
Tom Kraeutler: I think you say that a lot here.
Bill Boyer: Yes.
Tom Kraeutler: This is a lot of innovation here.
Bill Boyer: Then the other feedback is we're learning about new ways to use it that we didn't think about. Someone comes by and says, "Oh, I could use that with this project. I can use it with that project." Somethings we haven't even thought about.
Tom Kraeutler: That's terrific. Bill Boyer, Vice President of sales and marketing for Smart Tape. Thanks for being a part of the Money Pit's Top Product Podcast. I'm sure we're going to hear more exciting things from you guys in the future.
Bill Boyer: Thank you, Tom. Have a good day.