A beautiful, versatile storm door provides curb appeal year-round, with dependable security against the elements and improved energy efficiency. If it's time to replace your storm door, consider a customizable, affordable update from Andersen.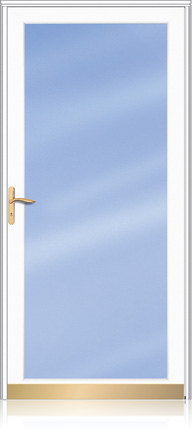 Andersen's 4000 Series Fullview Storm Door features Quick-Change glass, allowing you to switch from glass to screen or vice versa in less than a minute. This top-of-the-line Andersen storm door is available with laminated safety glass, just like the windshield of your car, and has a three-point lock. For extra security, the 4000 Series Fullview Storm Door has a patented splineloc insect screen with three times the holding power of standard screens.
Another great Andersen option is the 45-Minute Easy Install 3000 Series Self-Storing Storm Door. In addition to being the fastest and easiest storm door to install on the market, it features a built-in retractable screen that provides convenient ventilation with just one hand. Its full, top-to-bottom pane of glass provides maximum visibility, ventilation and light, and this stylish storm door is also available with decorative glass patterns.
Both the 4000 Series Fullview and 45-Minute Easy Install 3000 Storm Doors include a hands-free, foot-operated bottom closer and are available with Low-E glass for 35% more efficiency over regular door glass. Shop for Andersen storm doors at The Home Depot, where they're featured in the Eco Options collection of environmentally preferred products, and learn more at www.stormdoors.com.