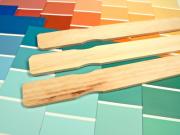 So we're a few weeks into the new year and it always takes me a bit to become accustomed to the change on the calendar. I have already written 2009 on so many things I cannot even tell you. It's not that I am living in the past; it's just habit.
Even though we are a few short weeks in I have been a very busy bee this year. I have started filming a new show called "$100 Makeover" for A&E which I am very excited about. The shoots have been going very well and I am having a great time with the cast and crew. Such lovely, fun, and fantastically talented people to be around, so yeah! The one bummer is the $100 budget, which yes we really do stick to. For the most part the families we are working with have a lot of "stuff" in their home that we can choose from. Plenty of extra furnishings, fabric tucked away in closets and forgotten, things purchased for projects that never got, you get the idea.
The one main thing that $100 can buy and make a gigantor difference is paint. You can get about 4 gallons of good quality paint which will cover a pretty big room walls, trim, and ceiling. Since it is a new year lets get a fresh start at home with some new paint and be daring when it comes to color.
Painting is a great project that can be quickly accomplished over a weekend and can absolutely change the feel and look of your home. When it comes to choosing colors think about what you have in your home that you already love and use that to help you select the new hue. If you have a throw pillow or blanket and it has some flecks of colors in it look to the design to help you select the color. Keep in mind that if you like neutral tones your ceiling doesn't have to be white. You can easily paint a ceiling a soft and pale tone of blue with the walls in the butter cream family or any neutral that has some depth with crisp white trim for a very striking but soft effect.
If you are happy with the color of your space but need a quick and affordable change why not paint the wall behind your bed or sofa an accent color for instantanious style. If the holidays brought you a flat screen TV take the time to mount, or have the pros do it, and paint the wall behind that a color that will make that high definition glory pop. If you find your self with extra paint be sure to save some for touch ups in a left over to go container labeled with the color name, number and room it goes to. If you have a lot left over paint the inside of your closet or pantry. Even closed off spaces could use a lift this time of year.