For 20 years Pantone's Color of the Year has been influencing trends in fashion, graphic design, and interior design. In their search for the next color story, they scour the globe for new influences. Recently, the color expert team has taken to the seas and Pantone is set to inspire us all with Living Coral.
Although bright and vibrant, Living Coral has an underlying mellowness. It offers a bold combination of all the lightheartedness, comfort, and warmth which is found naturally in sunsets and coral reefs around the world. It's a feel-good orange tinged with pink that is sure to add some pizzazz to your home.
Here's how to bring Living Coral into your design scheme.
A Subtle Look: Accents With a Hint of Playfulness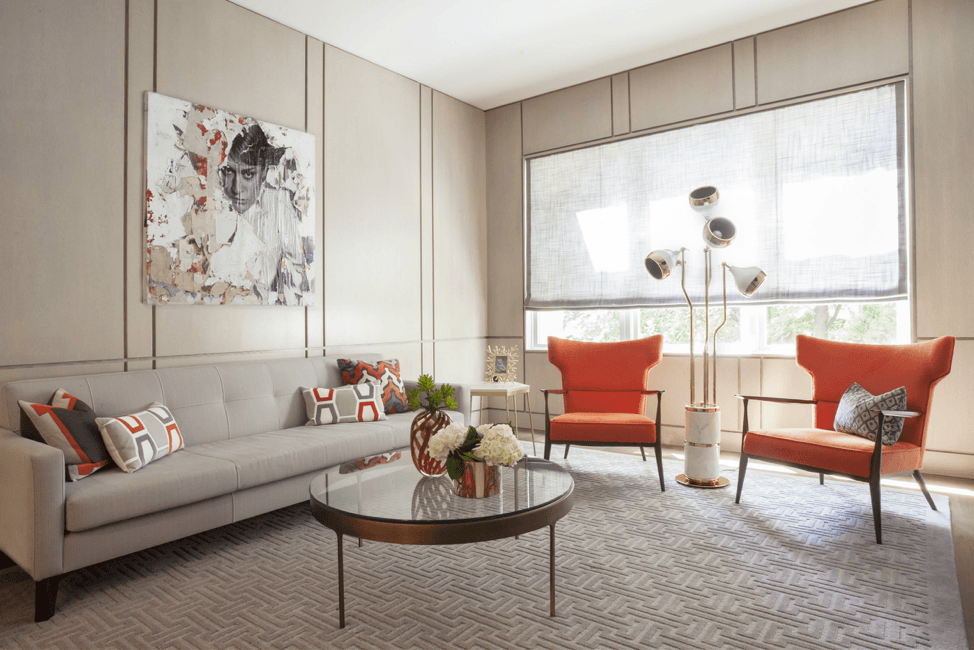 Photo credit: DelightFULL
Living Coral is the ideal color to add a playful, yet decadent touch to your interior. If you're keen to bring the color of the year into your home but aren't quite ready to take the plunge with your walls, try using Living Coral as an accent color in your existing decor.
Traditional design wisdom states that the 60/30/10 "rule" is a good place to start when it comes to color balance in a room. The 60 percent is your main color, the 30 percent your secondary color, and the 10 percent your accent or highlight color.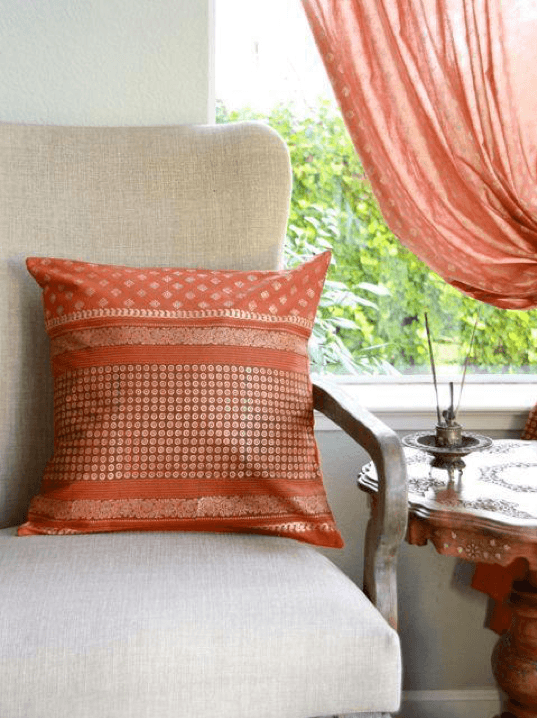 Photo credit: Saffron Marigold
To get your 10 percent into an existing scheme try soft furnishings in Living Coral such as blankets, rugs, and curtains to add the perfect pop of color to all rooms. One option is to upholster an old piece of furniture, often this is done to makeover an antique chair or a furniture piece that isn't looking so good anymore. For the effort involved though, sometimes it's just as easy to buy new.
Wooden furniture pieces are also the perfect way to bring the Color of the Year into your home. Give a chest of drawers a makeover with some paint, or up-cycle your latest flea market find by using Living Coral.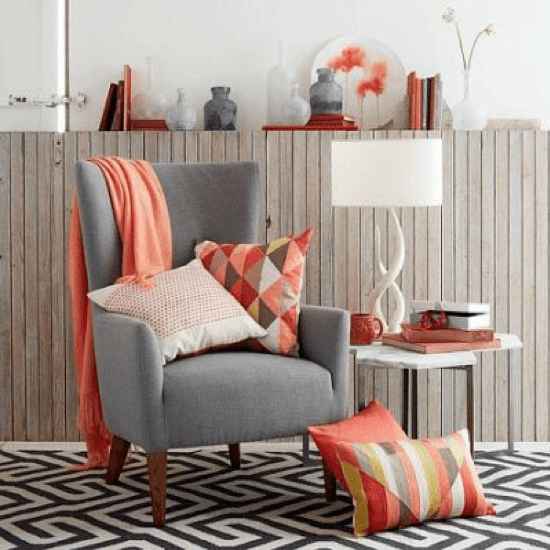 Photo credit: CraftedCoral
Textured and patterned cushions, which incorporate one or two natural tones, are a great way to add vibrancy and interest while maintaining an elegant and comfortable feel.
Bring a touch of Living Coral into the living room or bedroom by hanging art on your walls, or with vases and decorative accessories placed on tabletops and mantelpieces.
Living Coral is the ideal accent color because it allows you to add as much or as little brightness as you please. And because it has a naturally bold and bright countenance, it's the perfect way to add lift and light to neutral schemes.
An Intense Look: Bright, Warm, Vibrant Walls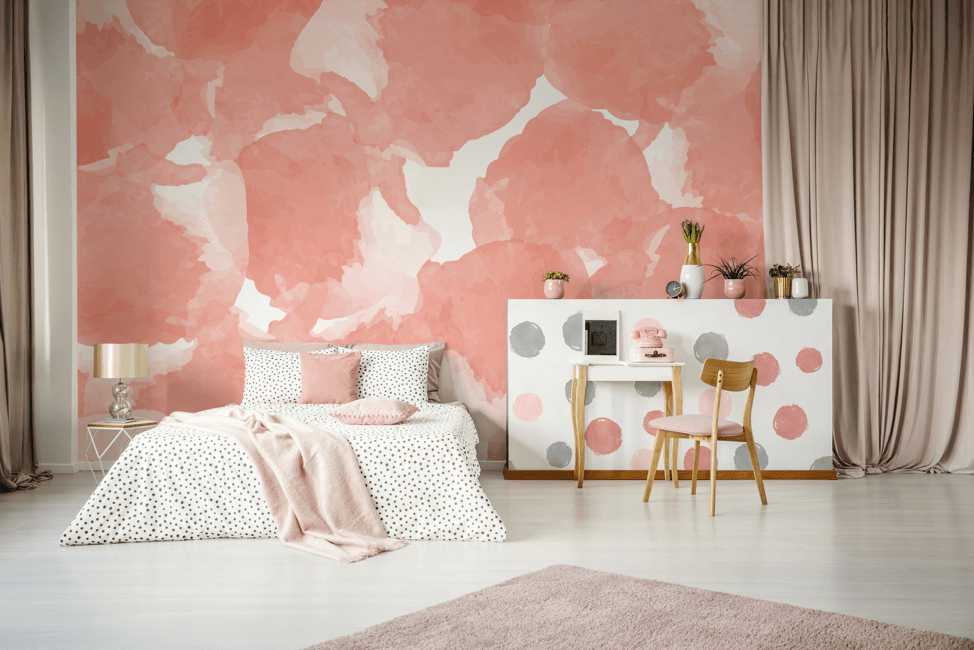 Photo credit: Pixers
Living Coral is bold enough to brighten up any room, yet rich and warm enough to bring a feeling of homeliness and comfort. Its bright and breezy optimism is great for social rooms where family and friends congregate; think living rooms, dining rooms, and kitchens. However, it is equally suited to the more personal rooms in the house, where we want to feel comforted by our surroundings, such as in our bedrooms and bathrooms.
One way to utilize this Color of the Year in the bedroom or living room is to use statement walls. Paint just one or two walls in Living Coral while using a neutral, pale color on the other walls to offset the burst of color. Doing so means you're committing to a feature color yet still retaining subtleness.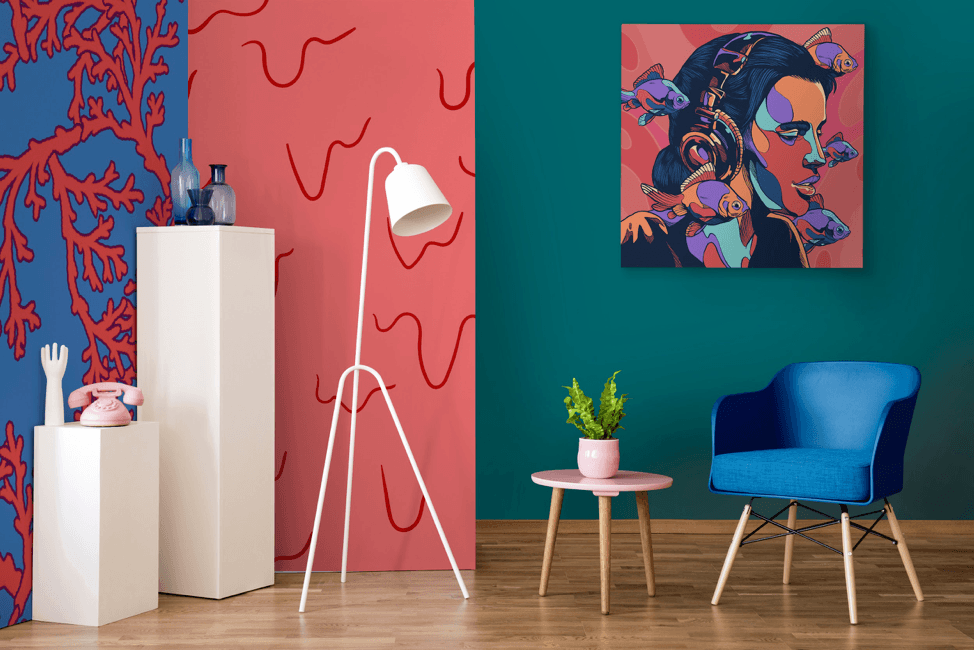 Photo credit: Pixers
Lighting is key with this color. Too little and there's the possibility that you'll feel as if you're living inside a mango. Choose a room with plenty of natural light or rethink your existing lighting if it's not quite up to scratch.
In the kitchen, Living Coral pairs well with light colored units. Using either a solid color paint or tiles will give your kitchen a homely, yet modern appearance.
As with any color trend, there are many Living Coral wallpaper options available too. Gentle, flowing patterns work well in the bedroom. Consider a bolder, geometric patterned wallpaper or tile in the bathroom.
How to Color Match Living Coral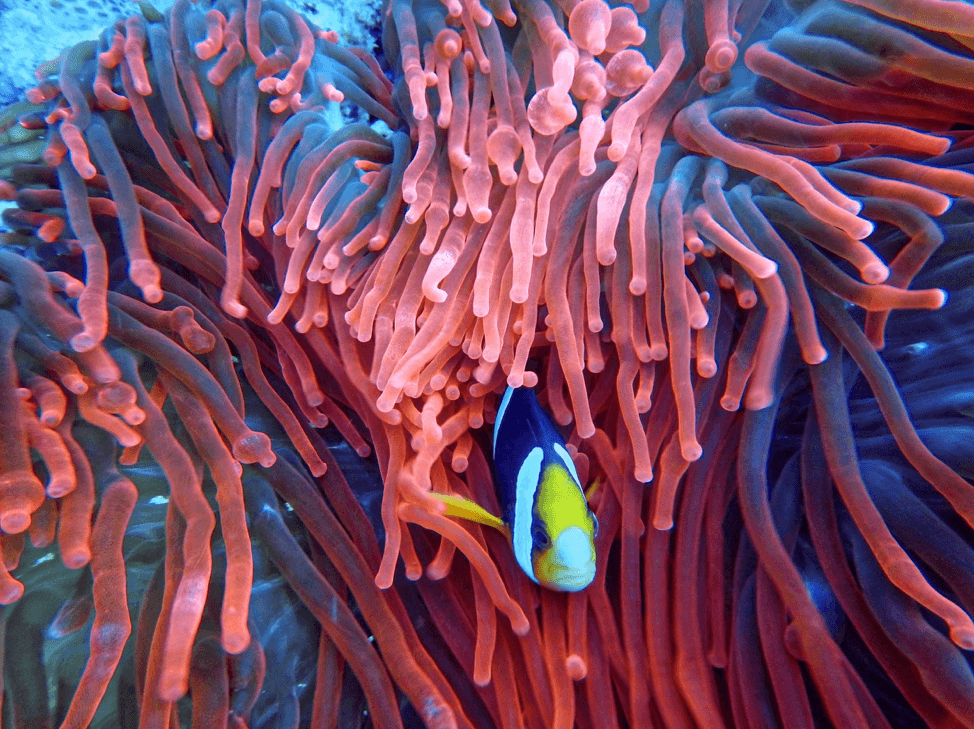 Photo credit: Tom Fisk on Pexels
Pantone describes Living Coral as "evocative of how coral reefs provide shelter to a diverse kaleidoscope of color." And just like the multicolored vibrancy of a reef, Living Coral combines well with other colors inspired by Mother Nature.
Neutrals always work
In terms of neutrals, slate colors, shades of grey–both dark and light–work really well with this hue. For example, if you're going for Living Coral bathroom walls, a slate-colored floor will complement brilliantly.
Sunset palettes for a warm atmosphere
Think of sunsets with pink, purple, and yellow tones across the sky. They work together to produce stunning scenery every day. Combining these colors in a bedroom or living room will provide a warm, familiar environment.
Coral reef combinations for a more extreme look
Colorful coral reefs provide their own combo of colors that can work as a guide. Deep blues and greens, yellows, and light pinks work in harmony with each other under the sea. They will also combine in harmony in a room, so long as the balance is right.
If you're not too sure whether a color will pair well with Living Coral, head to the color wheel and opt for those complementary colors that are opposite where Living Coral roughly sits.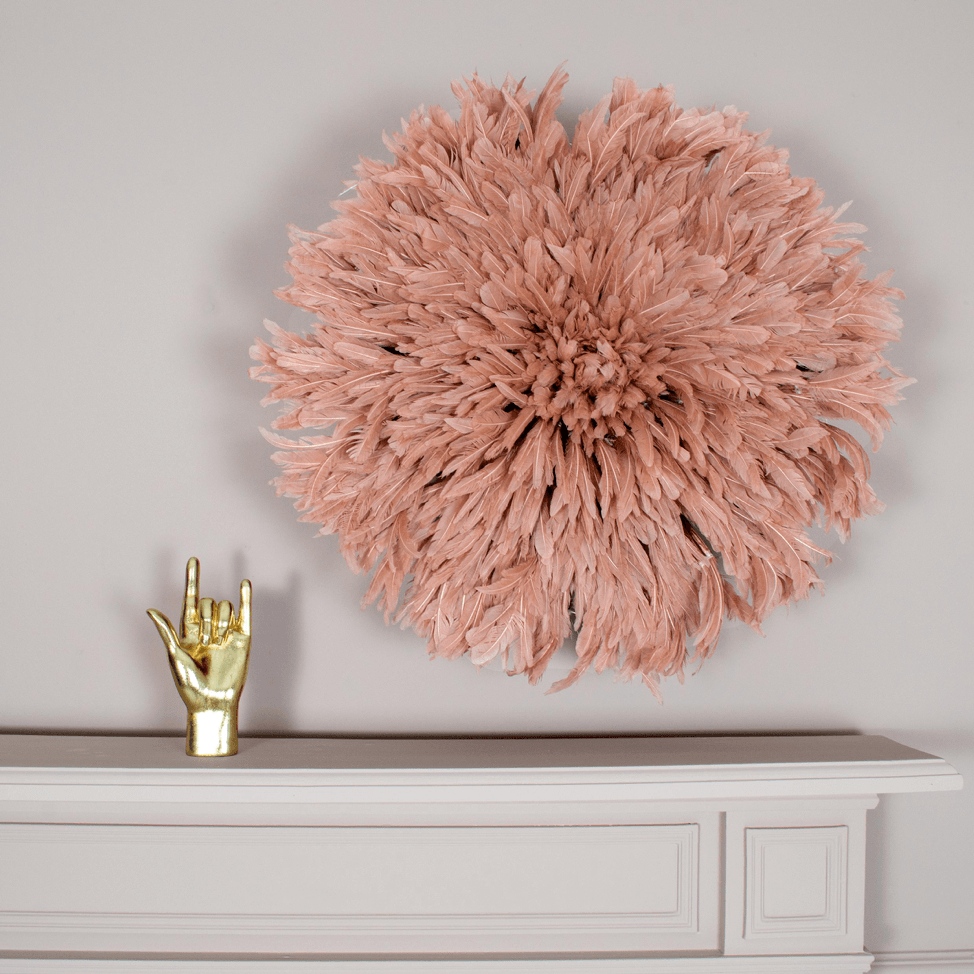 Photo credit: AUDENZA
Living Coral, the Pantone Color of the Year 2019, is a bright, refreshing and warm color evocative of both the reefs that inspired it and a joyful, color-saturated sunset.
However you incorporate it, be it by using it boldly or by adding splashes of color, Living Coral is sure to bring a bit of coral-licious charisma into your home!