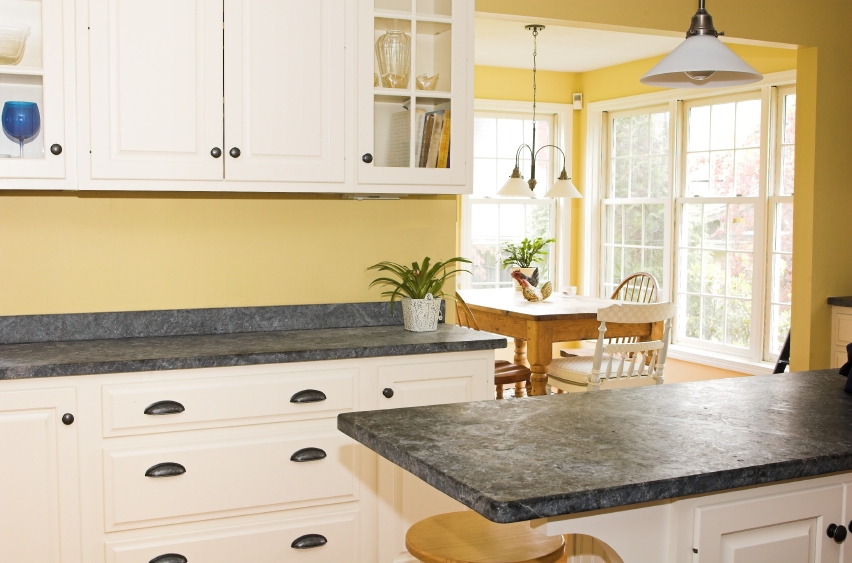 This is Part II of a two-part series. See Leslie's story here.
My 300-square-foot kitchen was built in the 1880s, redone in the 1980s, and was horribly dark — dark tan walls, brown floor, dark stained-wood beams crisscrossing the ceiling, dark wood wainscoting halfway up the walls, and dark cherry cabinets. Did I mention the kitchen was dark?
We repainted all the walls and the ceilings the whitest white we could find, and added a skylight and a planter window (like the one shown in the photo above) to brighten the room. The brown flooring was replaced with a gray slate laminate floor, the countertop with stone-patterned Corian, and all the antique hardware on the cabinets was replaced with polished, era-appropriate knobs and pulls.
In our case, we hired a professional for the Corian. Even though I had the skills to do the Corian tops, I knew professionals working with it every day were bound to be better than I could be.
Our cabinetry was classic, so we kept it. We also created a desk space in the kitchen because we didn't have one before and knew that we wanted the computer to be in a central, parentally supervised area.
To accomplish this, I decided to replicate the wainscoting that went around the kitchen and bought one 18-inch IKEA cabinet base, which became the left side of the desk, connected to the Corian countertop. That cabinet base tied in perfectly with the existing wainscoting, and it was a very easy, inexpensive way to plug a desk into the kitchen.
For a total of about $6,500 – countertops, flooring, and paint – we were able to create a much brighter, more functional and more contemporary kitchen.