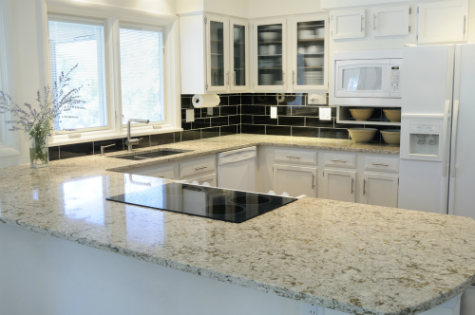 This is Part I of a two-part series. Stay tuned for Tom's story to follow!
When we bought our home, the kitchen countertops and backsplash were this horrible pink laminate. In fact, everything in the room was pink, including terra cotta floors and cabinetry in this sort of warmish red-brown color. It was like a Pepto-Bismol nightmare in there, albeit a tiny nightmare, at just 130 square feet.
We pulled out all the countertops and, because we had such limited counter space, I was able to replace them with really high-end, fancy granite (similar to the kind shown in the photo above). I completely rebuilt the original breakfast nook, using an exterior newel post that's all turned and curved and pretty for the support leg. I then painted the nook's apron and support leg a beautiful, bright white and added granite over there as well, so it sort of tied everything together. Just adding that bit of white really helped to make the warm brown cabinets stand out.
For the backsplash, instead of just putting up a new laminate or continuing the granite, I splurged on a crackle-finish tile, choosing the least-expensive detailed style, and made it look really grand and gorgeous by turning it on its side to create a diamond pattern. Then I closed off the top where it blended into the upper cabinetry using a coordinating border tile.
By the way, I hired somebody to do the tiling so I could get that special diamond-pattern effect done efficiently instead of going through a box of tiles and a ton of trial-and-error cutting mistakes on my own.
In summary, we replaced the counter, added a different backsplash, built the cabinetry up to the ceiling, added crown molding through the entire space — some got painted, some got stained to match the cabinetry — and changed the sink and the faucet. The grand total for the project was about $7,000.