A recent survey of designers conducted by the National Kitchen & Bath Association (NKBA) has revealed the top kitchen design trends for 2010. The results of the NKBA 2010 Kitchen & Bath Design Trends Survey confirmed some trends already here, are here to stay. But there are other findings that show 2010's top kitchen trends are shifting.
1. Traditional is the New Contemporary. Traditional will continue as a top kitchen trend in 2010, with contemporary following closely behind, while the Shaker style is seeing a surprisingly strong resurgence. Shades of whites and off-whites will be the most common kitchen colors in 2010, while brown, beige, and bone hues will also be popular.
2. Cherry on Top. Cherry will remain the most popular wood for kitchen cabinetry, followed closely by maple, while alder increases in use. As for the finishes placed on those cabinets, medium natural, dark natural, glazed, and white painted will all be common. Other colors of painted cabinetry and light natural finishes are in decline, however, as are distressed finishes.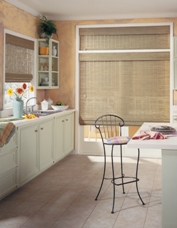 3. Floored by Tile.
Ceramic and porcelain tile, as well as natural stone tile, remain popular kitchen flooring options, but hardwood will dominate the kitchen landscape more than ever, making it a big trend for 2010. For countertops, granite continues to be the most popular option, but quartz will nearly catch up in popularity. For backsplashes, ceramic or porcelain tile and glass will serve as the primary materials.
4. Flexible Faucets. Standard kitchen faucets will become less standard in 2010 in favor of more convenient models. Pull-out faucets continue to increase their market dominance, while pot filler faucets will also become more prevalent. Kitchen faucets will most often be finished in brushed nickel, followed by stainless steel, satin nickel, and—surprisingly—polished chrome.
5. Undercounter Refrigeration. French door and freezer-bottom are the two most popular kitchen trends and side-by-side refrigerators remain another popular option. A surprising trend is the extent to which undercounter refrigerator drawers are being used in the latest kitchen designs. Perhaps even more surprising is that undercounter wine refrigerators have been recently specified by half of kitchen designers.
6. A Range of Cooking Options. The tried-and-true range continues to serve as the workhorse for cooking, although the combination of a cooktop and wall oven is beginning to overtake it. Gas will maintain its position as the most popular type of cooktop over electric, although induction cooking continues to gain in popularity due to its energy efficiency.
7. Dishwasher-in-a-Drawer. Standard dishwashers, with the traditional door that pulls from the top down, will once again be easily the most common type in 2010. However, an increasing number of dishwasher drawers will be installed in kitchens this year for their convenience and their ability to wash small loads of dishes in each drawer, thereby saving water and electricity.
The top kitchen trends in 2010 come from a survey conducted by the
National Kitchen and Bath Association
, a non-profit trade association. NKBA.org provides consumers with inspiration, as well as articles, tips and explanations of planning guidelines.