Smart technologies and efficient green approaches are building great new possibilities in the realm of modular homes, attracting attention to the technique's flexibility, value and variety. Whether you're looking for a new family home or vacation getaway, a prefabricated modular home offers cost and energy savings, quintessential quality control and an accelerated building timetable that allows your clan to enjoy the comforts of a new home much sooner than if you went the site-built route.
What modular means, and what it doesn't: The term "modular" still manages to get confused with "manufactured" (i.e., "mobile"), but the two housing styles couldn't be more different. Modular homes are built in sections inside a factory, delivered to the building site, placed on a foundation and assembled; manufactured homes, meanwhile, are all-in-one units built on a steel frame, and able to be moved from one location to another. What's more, modular homes are just like stick-built structures in that they must conform to all state, regional and local codes for the site at which they'll be located; their completion is overseen by local building inspectors; mortgage rates apply to their purchase; and they appreciate in value over time.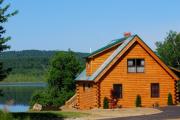 Modular homes also offer advantages to homeowners looking for a great value and accelerated timetable from planning and purchase to move-in day. Because work at the building site is limited to preparation of the foundation and assembly and finish work once the modular elements arrive, you're not at the mercy of site weather conditions and contractor schedules that would otherwise add time, money and headaches to the home-building process. In-factory construction also helps to keep a lid on labor costs and ensures energy efficient quality control throughout the manufacturing process, with site-built threats of weather damage and vandalism reduced in the process.
Green building options for modular homes: Folks looking to live green can definitely find an energy efficient suitable haven within the modular movement, thanks to innovative designers who appreciate the efficiencies and flexibility of this building technique. Modular home designs can incorporate earth- and human-friendly materials just like any stick build. Factories where modular home components are assembled are focused on green production processes and are also so numerous that energy and resources spent on shipping components to a building site are greatly reduced. Finally, energy efficiency is a hallmark of contemporary modular home building, with homes contributing to savings on heating and cooling costs through smart design and use of the latest in materials and appliances
Modular home trends and styles: Modular building encompasses pretty much every home style from traditional colonial to cutting-edge contemporary. What's especially exciting, though, is how this approach is generating renewed attention for time-honored structure styles that made their debut hundreds and even thousands of years ago.
The Mongolian yurt, for example, has brought living in the round around the world from its birthplace in Central Asia to enthusiastic dwellers in a range of climates and conditions. This round, self-supporting style of modular home is also a marvel of physics, with the forces of tension and compression in its components working together to create a strong and stable dwelling without the interior posts that could otherwise impact mobility and spatial potential. You may already have seen yurts serving as camping cabins in state parks or innovative outbuildings on established properties. Whether permanent, semi-permanent or truly temporary, there are kits and building resources for every application. Yurtinfo.org and such dedicated designers as Colorado Yurts help to open up the possibilities.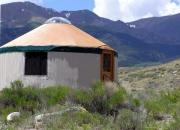 Log homes are also a type of modular home, and are experiencing a renaissance thanks to the innovative of modular home building techniques and green building interest. Log homes have always scored big in R-value, a factor calculating energy efficiency in building materials. Log walls actually contain millions of tiny air pockets which store cool air in the summer and warm air in the winter, building on the contemporary popularity of their traditional good looks. Combine their natural efficiency and beauty with designs ranging from cabin to rustic mansion, and this classic form of construction is a new solution for modular homeowners.
The Log Homes Council (LHC), part of the Building Systems Council of the National Association of Home Builders, is a great place to start building on your dreams with reference materials and resources. You can also create an efficient Energy Star-qualified log modular home with effective insulation, high-performance windows, tight construction and ducts, efficient HVAC equipment, and Energy Star lighting and appliances…All the modern, money-saving comforts you could want in a rustic retreat!