The new breed of modular vacation homes creates an affordable alternative for those who want to build a seasonal getaway. Vacation homes are a perennially popular investment, but the cost of new builds can send hopeful vacation homeowners packing back to their primary abode and online searches for holiday rentals. The latest technologies in modular building, however, can bring vacation dreams back within reach, offering attractive design, cost and energy savings, and an accelerated building timetable that allows owners to enjoy their new homes sooner.
Modular building has a long and often misunderstood history (not to mention frequent confusion with mobile homes) that has kept consumers from giving it a closer look. But as a wider range of design options and green-built models become as sophisticated as site-built residences, the view of modular vacation homes is definitely changing.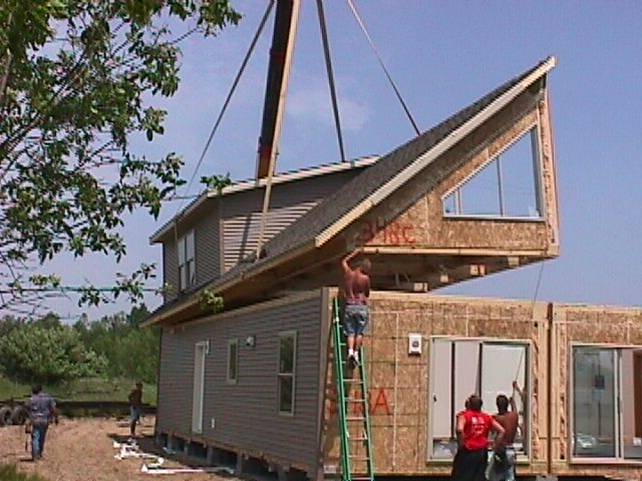 Definitely not mobile. The terms manufactured (i.e., mobile ) and modular are often confused by wary shoppers, but the housing styles they describe couldn't be more different. Modular homes are built in sections inside a factory, delivered to the building site, placed on a foundation, and assembled; manufactured homes are all-in-one units built on a steel frame, and can be moved from one location to another.
Modular homes must conform to all state, regional and local codes for the site at which they'll be located and their completion is overseen by local building inspectors, while manufactured homes are only required to conform to the national HUD code. Mortgage rates apply to modular home purchases, while manufactured home loans are based on vehicle rates. And modular homes appreciate in value over time just like any other quality new build, while manufactured homes tend to depreciate.
Counting the cost in materials, labor and time. If you go with modular construction for your vacation home, you're likely to be enjoying it much sooner and for a lower cost than you would a new build. For starters, building site weather conditions and contractor schedules don't impact the construction timetable, because most of the work is done in a dedicated factory setting with year-round production. Meanwhile, the modular vacation home's foundation can be prepared at the site, so depending on the intricacies of the finish work required once the modular elements arrive, the whole process can take as little as a few months from purchase to move-in day.
In-factory construction also helps to keep a lid on labor costs and ensure quality control throughout the manufacturing process; threats of weather damage and on-site vandalism that come with new builds are also greatly reduced. As a result, modular vacation homes can cost significantly less than new builds while having the same longevity.
Designed for style and efficiency. So how do modular vacation homes look? Pretty much any way you want them to. Designs range from ultra-modern to classic, with select manufacturers offering some exterior modifications to the designs in their catalogs. Interior treatments, surfaces and amenities are highly customizable, just as they would be with any home built from the ground up. And the view from inside is completely up to you, as modular homes can go to any vacation destination with access for component deliveries (this aspect can be a challenge in urban areas, but that's usually the kind of location you're taking a vacation from anyway).
Energy efficiency is also a hallmark of modular building, with homes contributing to savings on heating and cooling costs through smart design and use of the latest in materials and appliances. What's more, the green building movement has definitely entered the modular neighborhood, and thanks to innovative designers who appreciate the efficiencies and flexibility of this building technique, it's easy to create a modular vacation home that'll be kind to the very environment in which it resides.