If you're thinking about building a home for either a getaway or full-time living, take a cue from the log cabin of President Abraham Lincoln, who, as it turns out, was a pioneer in energy efficient living. Log cabins have always scored big in R-value, a factor calculating energy efficiency in building materials. Log walls actually contain millions of tiny air pockets which store cool air in the summer and warm air in the winter, building on the contemporary popularity of a log home's traditional good looks.
As log home-building technologies have evolved, so have the options in design, format and scale. When you are about to build a log home, you can pretty much find your perfect home plan, whether you long for a literal log cabin or require a rustic mansion. No matter what the wood treatment or application, you'll still be dealing with wood in its organic form, which requires some special considerations beyond the usual wood-sided construction. Roll through the following when building your new log cabin.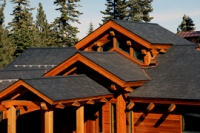 Site Planning
As you shop for a building site for your log cabin, keep drainage conditions top-of-mind. The exposed wood exterior of a log home needs to stay as dry as possible to remain rot-free. The ideal situation for a log home is one in which rainwater and melting snow can drain away from the log home on all four sides, although retaining walls, swales and sub-surface drainage systems are among the amendments that can be made to a building site if needed.
Once you've found a site for building your log cabin, contact the local building inspections department before buying either land or logs. Inspectors can evaluate the suitability of the site for your dream log home, and will also stay in the loop throughout the construction process to ensure that standards are being met.
Home Selection and Design
Now that you've selected the land on which to build your log home, determine which of its features you'd like to highlight through the siting of and views from inside your log home before proceeding to design selection.
Carefully research your options for log home design and construction. Increasing popularity of log homes in all sizes and styles has created a robust industry of designers, manufacturers, and builders offering everything from DIY kits to custom compounds centuries beyond anything Abe could have dreamed of. You might like to start with reference materials and resources from the Log Homes Council (LHC), part of the Building Systems Council of the National Association of Home Builders. LHC members are log home manufacturers and producers united in their commitment to quality building systems and ethical business practices for your benefit as a log home customer.
After narrowing down your design interests, develop a realistic budget for the proper construction of your log home, and investigate your finance options, which include mortgage companies specializing in the financing of log homes.
If having an Energy Star-qualified log home is important to you, understand what elements beyond the material itself can make it energy efficient. Effective insulation, high-performance windows, tight construction and ducts, efficient heating and cooling equipment, and Energy Star-qualified lighting and appliances are among the components of a truly green log home. Find out more at www.energystar.gov.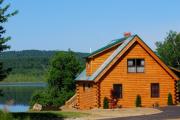 Continue your concern for proper drainage in the log structure's design elements. For starters, the lowest course of logs should not come in contact with damp ground, as that combination is an open invitation for the damaging effects of termites and fungi. In addition, wide roof overhangs, efficient gutter systems, well-ventilated attics and crawl spaces, and proper flashing around windows and doors will all contribute to a long, worry-free life for a log home.
During Construction
With any construction project, protection of building products is a must, but it's an even bigger concern when you're dealing with logs. Susceptible to molds, mildew and other conditions that can lead to damaging moisture absorption, logs need to be kept as dry as possible on site. Some manufacturers pre-treat logs with special preservatives to minimize such threats, but measures to keep logs off of the ground and apart from each other (such as with specially made spacers, known as stickers) are critical no matter what.
After You Move In
Landscape with care, keeping plantings well away from foundations and avoiding shredded-bark mulches that can attract the very pests who like to munch on log homes.
Control water absorption of log surfaces with regular maintenance of their protective finish. Look for stains, coatings and other treatments made especially for use on log homes and possessing exceptional water resistance and repellency, allowance for moisture vapor transfer, and mold and mildewcidal protection.