You want your bedroom to provide a rejuvenating night's sleep so that in the morning you are eager to face another day. The path to that goal can be hard to find but there are some very simple steps based in the ancient concept of Feng Shui that can be followed in order to turn your current bedroom into a perfect sleep sanctuary.

If you're having trouble getting the rest you need, take a look around the bedroom. Are distractions waking you up? Visual stimuli can include windows, hallway lights left on, televisions and even bright alarm clocks that may be facing you during the night. These are all unconscious time cues that can wake up your brain long before the alarm goes off.
When thinking about your bedroom, comfort and support are key and the most critical component of the bedroom is your bed. You spend a full third of your life on your mattress, so it's important to have a comfortable one. Experts say that for optimal support and comfort you should replace your mattress every five to seven years.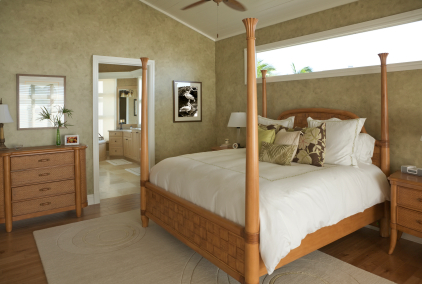 According to the sleep experts at 1800mattress, here are a few tell tale signs to look for which may mean its time for a new mattress.
A valley has developed in the mattress
There is sagging across the middle third of the mattress or along the sides
The mattress makes creaking noises
Soft, non-supportive edges are a sign of edge breakdown
You wake up sore or stiff
You wake up numerous times to shift positions
Your bed is the foundation of your bedroom. Trying out a mattress is absolutely essential to finding the right one for you. You probably wouldn't buy a car without test driving it first and you spend nearly twice as much time in bed as you do in the car. Keep in mind that quality pillows, high-thread count sheets, a plush comforter, duvet covers, etc., make a room extra inviting and uniquely yours.
The next tip is to remember that your bedroom should be your sleep sanctuary, not a home office, dining room or living room and it should be treated as such. Keep the room well-organized and avoid clutter. Dirty clothes on the floor or needing a compass to navigate through your room are signs you are adding undue stress to your mind and sabotaging any possibility of this room having a calming effect on you. Sometimes there can be too much in the bedroom, like excess lighting or furniture.
Improving your bedroom decor is not only an investment in your home, it's also a smart investment in a healthier and happier life. A well done feng shui bedroom is a bedroom that is inviting, exciting and calming – all at the same time!