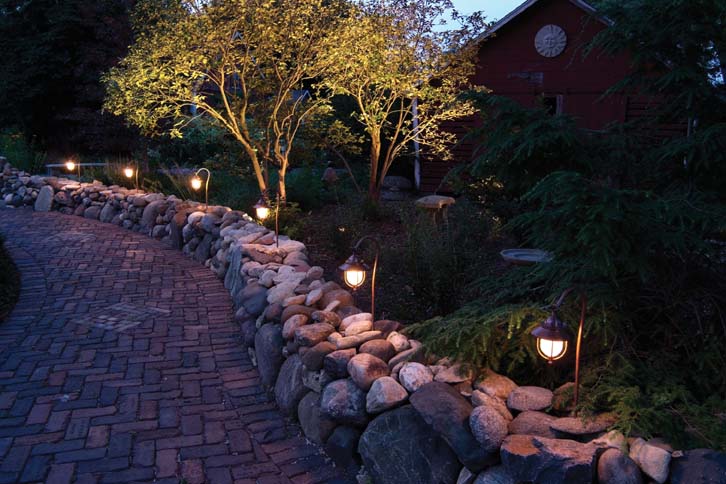 Want to add dimension and drama to your home's landscaping, and more livability to outdoor rooms? Install low-voltage lighting. Thanks to today's versatile lighting kits, you can create designer-quality results with a little DIY skill and prep work.
Start by gauging how much lighting you need, and how long you want your investment to last. The shorter your stay in your present home, the simpler your lighting plan should be.
Next, get acquainted with your state's guidelines for low-voltage lighting. Unlike line voltage, which has national codes and requires specialized experience to install, low-voltage lighting is guided by state codes and is simple to install once you have your scheme planned out.
Before shopping for a lighting kit, use a voltage meter to pre-test the outlet you'll be using for the system's transformer. Then invest in a top-quality, UL-approved transformer with enough power to keep your system shining. A stainless steel transformer box will resist rust and corrosion, and should be installed at least two feet above the ground with the access door facing away from any nearby shrubbery.
When it comes to installing the light fixtures, two steps will simplify the process. First, plan to thoroughly wet the installation zone the night before installation, because wet soil is much easier to work with than dry. And second, take time to lay out fixtures and the connecting wire in the configuration desired to create an above-ground map before you start digging. Once everything is positioned correctly, embed all elements into the ground and look forward to a subtle, beautiful light show every evening.