A router can be one of the most useful DIY tools you'll ever use, but most people are still very intimidated by them. What is a router anyway and what can you do with it? In the simplest terms, a router is a shaft that runs off a motor and has a router bit or cutter head attached at the end. You use it to hollow out an area on the surface of a piece of wood, making a shape known as the profile. Some projects you can do with the help of a router include adding a decorative edge to furniture, creating your own crown molding or chair rail, building furniture, adding a cable/speaker wire port to an existing cabinet or TV stand, or adding a decorative edge on a fence before installing it.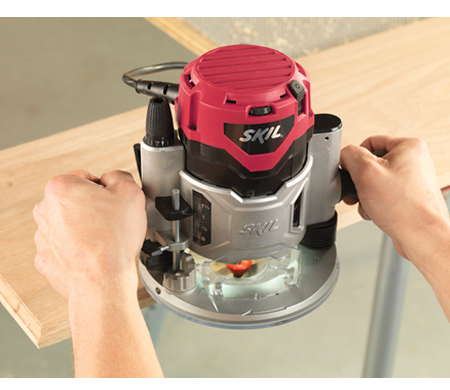 Far from being a specialty tool only for advanced DIYers, today's routers are safer and easier to use than ever before. SKIL's new routers are especially great for intermediate DIYers because they feature Soft Start™ Technology, which ensures that users experience less kickback when they turn on the tool. This not only gives you more control over the router, but it also increases the life of the motor because the router gradually picks up speed rather than jumping right to top speed. And a motor that lasts longer means you can finish more projects.
Another safety feature of SKIL routers that makes them perfect for less experienced DIYers is the dual position on/off switch. When you're using a router, the last thing you want to have to worry about is reaching for the on/off switch to either power up or power down your tool. The new lineup of SKIL routers have two convenient switch locations so users can easily turn their routers on or off.  Until now, this feature has only been seen on professional-grade routers, but with SKIL you get pro features and performance for a DIY price.
SKIL's new routers also give you more control with micro-fine depth adjustment for precise depth measurements and a 1/2 inch collet capacity for larger profile applications. The collet is what holds the bit in place, and the shank is the part of the bit that is inserted into the router.  Half-inch shanks have nearly four times the mass of 1/4 inch shank bits, which makes them more stable when in use. As you might expect, a more solid bit means a cleaner cut. The extra mass also helps reduce the vibrations caused by the high speed of the spinning bit and dissipate more of the heat generated by the bit so it's less likely that you'll burn the stock. But should you wish to use a 1/4 inch bit, SKIL's new routers have 1/4 collet adapters as well.
First in the lineup is the 1817 Fixed Base Router, which retails for $69. A fixed base router is a router with a single depth adjustment and the router bit is fixed in position relative to the base of the router until it is adjusted for a different depth. SKIL's second new router is the 1827 Plunge Base Router, which retails for $89. Unlike a fixed base router, a plunge router allows you to change its cutter depth. Finally, SKIL's 1830 Combo Router Kit retails for $109 and comes with both a fixed base and plunge base so you can tackle any project that comes your way. All three options also come with such great features as soft-grip handles for improved comfort and support and LED SiteLight™ for improved visibility and powered tool alert, making SKIL routers safer and easier for less advanced DIYers. For more information about SKIL routers, visit www.skiltools.com.