If you're looking for a fun new way to mix up your favorite cocktails, try an easy DIY liquor dispenser. In just one day, you can have a new bar accessory that suits your personal style and is sure to be a hit at your next party.
We've got 4 designs for building a DIY Liquor Dispenser out of things you might just have laying around the house, she shed or man cave – including a video with step by step instructions for the most popular type of DIY Liquor dispenser.
Building a Freestanding Alcohol Dispenser
There are a couple of ways to build a free-standing liquor dispenser.
Metal Pipe Liquor Dispenser
This type of handmade liquor dispenser uses a flat wooden base and stainless steel pipes or pure copper pipe. This takes the least amount of woodworking, and is one of the easiest options. First, sand and stain a wood block — oak works nicely as it is durable and looks great with a nice lacquer finish stain.
Next, take your stainless steel fittings and, if desired, spray paint them to the color of your choosing. You'll need a dispensing valve, and a standard garden spigot will do the trick nicely, as well as add a bit of a steampunk/industrial look, for lack of a better description.
Don't throw away your bottle cap! You'll need it to dispense the alcohol. Using a dremel, cut a hole into the center and push snugly into the fitting. Screw the pipes together and attach to the base. Then stick your favorite 750ml bottle of alcohol in (whiskey, rum, vodka), and enjoy!
This unique single bottle liquor dispenser makes a better birthday gift or father's day gift than a regular old decanter, and makes for a perfect conversation piece. Instructibles.com provides detailed advice on building this DIY liquor dispenser.
Level Upped Liquor Dispenser
If you're feeling like the typical freestanding drink dispenser is a little rudimentary for you, check out some more artsy ideas like this one on Google or Etsy. Got a fireman in your family? Some people have found ways to transform faucet fixings into sculptures that resemble their profession!
On models like this, the pourer spout acts as the hose. Or, consider adding a little electricity to this dispenser diy. Edison bulbs add a touch of class to this man's cave accessory. What a cool gift idea!
Wall-Mounted Liquor Dispenser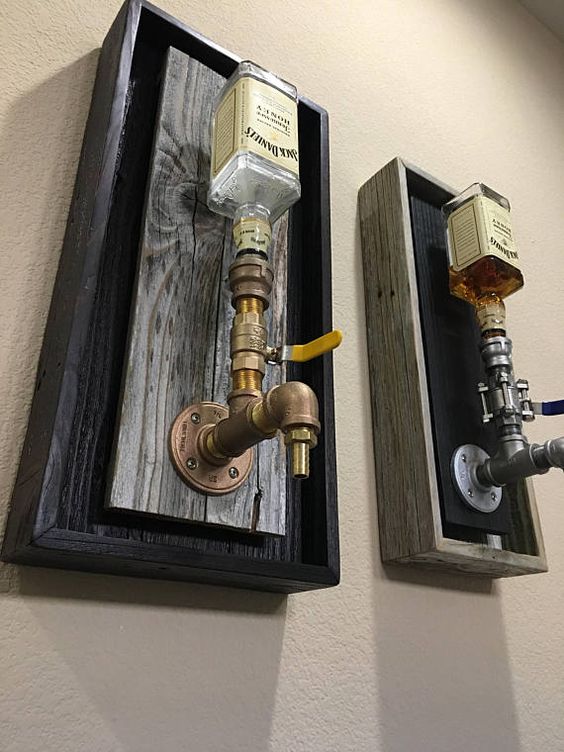 This DIY project is a clever way to display liquor bottles as a larger piece of wall art. You can put it on pretty much any wall — garage, living room, or a different site.
By affixing glass bottles to a wooden backing, you can achieve a rustic, homestead look. Add vintage items or use smokey wood to add character. Or, opt for a classic gray background for a more modern beverage dispenser.
Use stainless steel valves for the dispenser portion, (hand washing of course) and inserting individual pourers before mounting. Place on a wall, making sure to mount into studs for added security, and enjoy your wood liquor dispenser!
Know someone who would love their own whiskey dispenser? Why not make it a Jack Daniels birthday with a wood dispenser as the perfect gift.
Classic Wooden Liquor Dispenser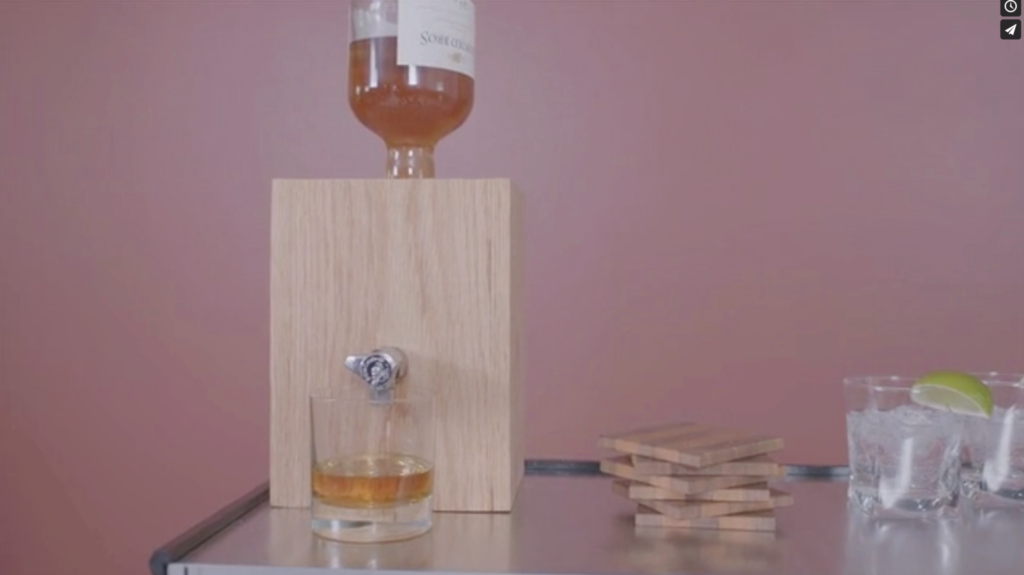 This type of liquor dispenser is a bit more difficult to build, but it's clean and classic design hides all the "plumbing" for a much more finished look. Here's the complete step by step, and video you'll need to build it.
This type of liquor dispenser is a bit more difficult to build, but it's clean and classic design hides all the "plumbing" for a much more finished look. Here's the complete step by step, and video you'll need to build it.
TOOLS & MATERIALS

Cordless Drill/Driver
Pencil
Combination Square
Tape Measure
Nitrile Glove
5" Phillips Bit
1-1/8" Forstner Bit
Miter Saw
Utility Knife
5" x ½" x 48" Oak Hobby Board
¾" Square Dowel
Stainless Steel Spigot (1/2" Female)
¾" x ½" Male Adapter/Plastic Barb
½" x ½" Male Adapter/Plastic Barb
#6 Countersink Bit
7/8" Forstner Bit
½" Inside Diameter Clear PVC Tubing
¾" x 1" Threaded PVC Nipple
½" Hose Clamp (2)
80/150/220-Grit Sandpaper
1" Screws (25)
Wood Glue
Danish Oil
Rags
Plumber's Tape

MEASURE AND CUT WOOD

Begin by measuring and cutting your hobby board. You will need four 9" pieces and two 4½" pieces.
Next, cut your ¾" square dowel into four 5½" pieces and two 4½" pieces.


MARK WOOD

Using your cut wood as a guide, draw a straight line a half-inch from both edges on three 9" pieces.
Repeat with another line on the 5½" end. On the remaining 9" piece, mark the center point, and four inches from the bottom.
The 4½" piece will be your shelves, so find and mark their center points as well.

DRILL HOLES

Drill Holes. Countersink two holes into adjacent sides of both of your 5½" square dowel pieces, then drill a hole through the center of your 4½" pieces with a ½" bit.
With the other 4½" piece, drill halfway through with a 1½" bit, switching to a 1-1/8" bit to finish your hole.
Take your 9" piece and use a 1-1/8" Forstner bit to drill a hole one side, making sure to stop before going all the way through.
Switch to a 7/8" bit to complete the hole.

ASSEMBLE

Now you're ready to assemble your pieces.
With 1" screws, align your 4½" piece a half-inch from the top and attach.
Next, attach the 5½" square dowel pieces to two of your 9" pieces, making sure the ½" edge is aligned with the bottom.
Then attach the remaining side pieces. (Using a clamp can help you achieve a seamless joint.)
Place your 9" piece with the 7/8" hole flat on your work surface and add wood glue to the seams.
Secure the top 4½" piece through the countersunk holes.
Connect your ½" x ½" barb and spigot to the front of your dispenser.
Next, attach your PVC fitting to your ¾" x ½" barb between your shelves. Using hose clamps, cut a half-inch of tubing and tighten onto the barbs.
Set the top piece in place by adding wood glue to its bottom edges.
Let it dry, and secure with screws from underneath.
Place the shelf on top of the support pieces and screw them in place, then attach and secure your back piece.

SAND AND STAIN

After assembling your liquor dispenser, sand the entire piece.
Start with the lowest grit sandpaper and work your way up until your piece is completely smooth.
Make sure you wipe off any dust before applying Danish oil.

STOCK YOUR DISPENSER!

Stock Your Dispenser. After your dispenser has completely dried, flip it over to secure your favorite bottle. Return the dispenser to its upright position and open the bar.
Conclusion
One of the hallmarks of being a good host is the ability to serve your guests their favorite drink. The good news is, it doesn't take much to bring your bar from basic to beyond cool.
Just remember, liquor and power tools don't mix so no testing of the finished product before you're done!
Looking for great tools to help get your project done? Shop Stanley, Black & Decker and DeWALT for everything you need!