LESLIE: Well, the roadside mailbox at your driveway may be the first impression your house makes to visitors. And there are some very decorative and stylized options available now.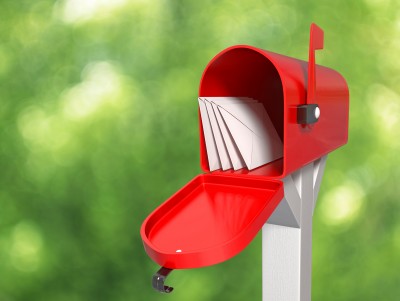 TOM: Well, that's right. But roadside mailboxes also need to be built tough to stand up. Between bad weather, snowfall, snow plows and the occasional more deliberate forms of vandalism, mailboxes can take a real beating.
Here to teach us how to build a mailbox that can stand the test of time and everything else is landscaping contractor Roger Cook from TV's This Old House.
Welcome, Roger.
ROGER: Thank you. And I've got to tell you that this winter wreaked havoc on mailboxes in the New England area.
TOM: I can only imagine. In New Jersey, as well, there were – seemed to be more laying down than standing up.
ROGER: Between the snow that was pushed on top of them or the plows hitting them themselves, the lawns were literally littered with mailboxes in the spring.
LESLIE: Once it all melted.
TOM: Alright. So, Roger, let's say the snow has melted and we saw the scattered remains of our formerly beautiful mailbox. We've got to put it back together or we're going to build one right from scratch. The position of that mailbox is really important; it's actually controlled by the federal government, correct?
ROGER: It is very important but there's one more step that is really super-important and that's calling your utility-locating service.
TOM: OK.
ROGER: Now, you can reach them by dialing 811 nationwide.
TOM: So, across the country, 811 works.
ROGER: Right. And they're going to come out and you have to give them 72 hours and they'll mark out all the utilities in the street. So you'll know that – where you can put in the mailbox and not hit, say, a gas line. Because taking your post-hole diggers and digging a hole in a gas line can ruin your whole day.
TOM: That's right.
LESLIE: And that's really because the location of the mailbox is just on the perimeter of your property. And that's, you know, really the property of the town/village/city. That's where they put all those utilities for your home and everybody else's.
ROGER: Yep. That's where all the lines tend to be.
TOM: Now, once we've cleared that the lines are not there and we're safe to dig, what's the key to making sure that that mailbox can really stand up?
ROGER: Well, first you have to consider that when you're putting it in, that the federal government has regulations. They want that mailbox 41 to 45 inches high and they want it 8 inches back from the street. Once you have those measurements and you know where you're going to put it, then you can decide what type of material you want to work with. There's everything from plastic, wood or even wrought iron.
TOM: Now, when you set that mailbox post, that's really the first part here. Digging that hole, concrete? No concrete? Stone? What do you think?
ROGER: Well, if it's vulnerable to snow and a plow, I would say put concrete around it. If it's not, just pack it in good gravel and it should be OK.
LESLIE: How do you make sure that that post is square and standing up straight?
ROGER: They make a special level – a fencepost level – that fits onto the board of the mailbox. And it's great because you tie it, strap it onto the mailbox. Your hands are free and you can just look at it as you're moving that post around and level it up very easily rather than taking the handheld and going from one side to the other. Makes short work of leveling up the post.
TOM: Now, you mentioned the materials before. PVC is becoming very popular. Is that strong enough to stand up as a mailbox post?
ROGER: You have to reinforce it a little bit. What we do is we either slide a 6×6, if it's a 6×6 vinyl post, inside it and that'll give it some strength. Or we fill it with concrete.
TOM: Alright, Roger. And as a final tip, when we've got that new mailbox installed, any tips for landscaping around it?
ROGER: I like to use some perennials around it or some real hardy annuals, because it's going to be a high-traffic area.
TOM: Right.
ROGER: So you want to make sure whatever plans are there can withstand the traffic.
TOM: Good advice. Roger Cook from TV's This Old House, thanks so much for stopping by The Money Pit with a plan to build a mailbox that will never miss a letter, moving forward.
ROGER: Hey, Tom, they have this new thing? It's called e-mail.
LESLIE: Alright. And now that Tom and Roger won't be getting any mail this year, you can catch the current season of This Old House and Ask This Old House on PBS. For your local listings and a step-by-step video on how you can install a new mailbox, visit ThisOldHouse.com.
TOM: And Ask This Old House is brought to you by Stanley Tools. Stanley, make something great.