LESLIE: A great landscape must be carefully planned, properly planted and then well-maintained. And those are all very different skills. So, can most landscape contractors do all of that?
TOM: Well, definitely. But if you decide to hire a landscape pro, how do you find the right one for your project? Joining us now are two experts who know a lot about that topic: Angie Hicks is the founder of Angie's List, a website devoted to helping consumers find the best professionals for their projects and service needs, and Roger Cook, the landscaping contractor on TV's This Old House.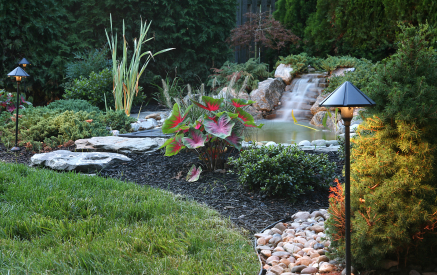 Welcome, Angie.
ANGIE: Thanks for having me on the show.
TOM: And hello, Roger.
ROGER: Thanks for having me.
TOM: Hey, it's great to have you. And Roger, let's start with this: landscaper. That sort of term covers a wide range of services: everything from lawn maintenance to major yard remodels, right?
ROGER: Exactly. People who do perennial care, people who fertilize lawns, people who cut lawns, install landscapes, install major landscapes. All [kind of] (ph) falls under one heading but there are definitely different people who do different things.
TOM: And so finding a specialist would be one of the first things to look for?
ROGER: Yes. Know the size of your project and what's involved. If it's a smaller project, you can get someone with a smaller company who – the owner may be on the job doing the work. If it's a larger project, you may need a big company that has backhoes and different types of things that a smaller guy wouldn't have.
LESLIE: Angie, what do you think are some of the most important questions to ask a landscaper before you hire them?
ANGIE: You know, when it comes to landscaping, a lot of times a landscaping project is a fun, discretionary project that we think about as homeowners. So I think the important thing is finding out whether you have a landscaper that's going to listen to your interests, stay within your budget. I think it can be a project that can easily be added on to, so you want to know someone that's going to maintain within your project parameters and then also one that really listens to your lifestyle and how you want to really interact with your landscaping. Because that – some of us love to labor in our gardens every weekend while others really want things that are very low-maintenance. So you want to be sure that the suggested items that are put in the landscape match your lifestyle.
TOM: So, Roger, what's your two cents on this? Before a consumer hires a landscaper, what are some of the questions that they really should get answered?
ROGER: The first thing they should do is establish their budget. There is nothing that is a bigger waste of time for the homeowner or the landscaper to price a job and it's nowhere in the budget. And sometimes, I think people think if we know what the budget is, we're going to spend all of it and more. No. But we're going to be realistic and tell you that you can do this, you can do that.
One of the big things we do is we phase projects. Because at my own house, I can never afford what I want to have done.
TOM: Right.
ROGER: But if I do a little – one year, one year, two year, three and we have a plan and the whole thing comes together, then that's a good situation for the owner and the landscaper.
LESLIE: And what about maintenance? Should you really be considering what part of the maintenance role you'll play as a homeowner and what part you'll need the pro to do?
ROGER: You need to know if you're going to be out there cutting the lawn, trimming, fertilizing and all the things that need to be done. A great situation is to have the person who installed the landscape maintain it because they know it, they've done a good job and they'll be able to maintain it in a proper fashion. I'm always leery of taking on the maintenance that someone else installed because once you put bark mulch on top of it, you don't know what's underneath there in the soil.
TOM: Good point. Roger, how is hiring a landscaper different than maybe hiring another pro?
ROGER: Well, first of all, most landscapers aren't licensed. A lot of them have certificates and belong to certain organizations. But unlike a plumber or a general contractor, they're not licensed.
I tell people the biggest thing you can do to find a landscaper is talk to your neighbors and find someone who's had a successful project or two. Then you have to do your homework. You have to talk to the landscaper, get a reference from them and go out and talk to these people and look at the jobs. And interview them so that you can find out if this is the right fit for you. And that's what it's all about with landscaping. It's a very personal thing. It has to be a contractor who fits with you.
Angie, if you're considering hiring a landscaper, what are some of the questions that you might want to ask, specifically, perhaps about their references?
ANGIE: You always want to be sure to check references. I know that seems like a project that oftentimes is overlooked. But check two or three references. You want to see photos and you want to see how the projects have held up over time. Especially, a landscaping project is one that sometimes really kind of hits its stride a few years after being planted. So you want to be sure you're talking to – consumers have had projects done more recently, as well as ones that have had their projects done over time. Did the plants make it through their first winter? How did they hold up? You want to understand that dynamic, as well.
TOM: Roger, if you were giving somebody advice on how to pick the right landscaper, what would be an important thing for them to check out?
ROGER: To go out with a landscaper and look at one of the jobs he's done and completed.
TOM: OK.
ROGER: Now, you can go out and get some great tips because you can see a stone wall, which might be like the stone wall they're going to put in your house, a bluestone patio, grass, plantings, things that you like and can pick up from it.
TOM: So take a little field trip. You could really learn quite a bit.
ROGER: It'd make all the difference in the world.
LESLIE: Roger, as a landscaping pro yourself, how important is it that you stand behind the installation of the yard? Is it something that you can say, "Alright. I'll guarantee this plant for a year," or how much of that is a homeowner fault? How do you decide?
ROGER: It depends on the installation. Usually, our guarantee is one year but that's based on either an irrigation system or something being set up to do the proper watering. Because, as you know, two weeks later, everything can die if it hasn't been watered and that voids the warranty.
But I think every landscaper has to stand behind what he's doing because my favorite saying is: "Bark mulch hides a world of sins." You don't know what's underneath there. Most plants will exist for six months even if they're put in in the wrong conditions. But the landscaping should grow and flourish from year to year. So after year one, it should look pretty good and then you go back and take care of any problems that are there.
TOM: Good point. Roger Cook, the landscaping contractor on TV's This Old House, thanks so much for stopping by The Money Pit.
ROGER: My pleasure. Did I get the job?
TOM: You absolutely do. You're hired.
And Angie Hicks, the founder of AngiesList.com, great advice and we really appreciate your contribution, as well.
LESLIE: Alright. You can catch the current season of This Old House and Ask This Old House on PBS. For local listings and step-by-step videos of many common home improvement projects, visit ThisOldHouse.com.
And for help finding a great pro to tackle your projects, visit AngiesList.com.
TOM: And This Old House is brought to you by Angie's List. Angie's List, reviews you can trust.