Putting a grandparent or other elderly relative into a nursing care facility is never an easy decision. Most of us would prefer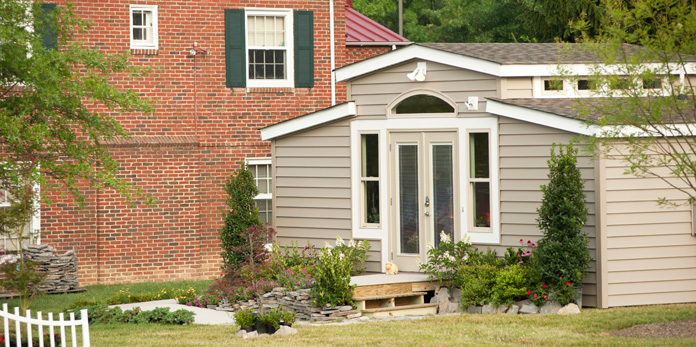 not to do it, and our older loved ones would almost always rather stay in their own homes, too. It's an issue that looms for many of us, as 78 million baby boomers prepare for their senior years, potentially straining nursing homes and government-funded healthcare programs.
Well just when you thought new technology was making us more impersonal and pulling us further apart, one brilliant Virginia reverend has invented the ultimate in compassionate gadgets. The MedCottage, created by Reverend Kenneth Dupin, is a portable, modular medical home that encourages family-managed care as an alternative to long-term care facilities. Essentially, the MedCottage is a 12-by-24-foot "granny pod" that gets leased or purchased and parked on your property, keeping Grandma close to you, yet allowing her to maintain a sense of independence. Just like an RV, it connects to a single family house's electrical and water supplies. And the MedCottage is loaded with technology and amenities for the health, comfort and safety of the elderly or those recovering from illness or injury.
MedCottage contains a family communication center that provides telemetry, environmental control and dynamic interaction to off-site caregivers through smart and robotic technology throughout the cottage. It's also equipped with the latest technology to monitor vital signs, filter the air for contaminants and communicate with the outside world via high-tech video and cell phone text technology. Sensors alert caregivers to an occupant's fall, and a computer can remind the occupant to take medications. The technology also provides entertainment, offering a selection of music, reading material and movies.
"With changing family structure and lifestyles over the past century, research demonstrates that end-of-life care is emerging as the most pertinent concern for the baby boomer generation," Dupin says. "Boomers have a particular fear of being isolated from family and institutionalized in the final stage of life. Consequently, there is a need in the market for an innovative alternative to care for the aging population unlike any current options for end-of-life care."
The idea for the MedCottage came to Dupin after years of leading humanitarian missions to developing countries, and it was encouraged by a growing sense of his own mortality.
"As people age or require additional care, many of the existing treatment options often take them away from their family," Dupin says. "The MedCottage gives families the ability to directly participate in their loved ones' recovery, rehabilitation or extended care – on their property – while giving them peace of mind knowing they are providing the best possible care."
The MedCottage is already authorized for use in Virginia and is designed to comply with local zoning ordinances throughout the nation. Earlier this year, Virginia Governor Bob McDonnell signed into law HB 1307, "Zoning Provisions for Temporary Family Healthcare Structures." Don't be surprised if you see more "granny pods" coming to neighborhoods like yours soon.