It's Oscar season again, and everyone's wondering who the winners and losers will be according to the Academy…and the fashion police! You can make sure your home gets on the best-dressed list with a red carpet-worthy makeover guided by these three words: glitz, glamour and luxury.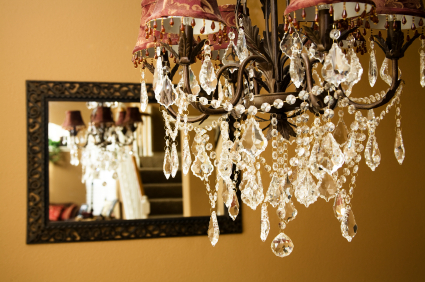 Crystal and mirrors are two high-impact ways to instantly transform your space. Light fixtures dripping in crystal, cut glass candle holders, and reflective surfaces are a surefire way to add that sense of drama to your home. Groupings of mirrors hung in a thoughtful way can add depth to any space and send light traveling to make the room seem larger—or was that just the flash of the paparazzi?
Rich and saturated tones can make any room feel like the VIP party. Look for plum tones and deep grays that have blue or purple undertones. Even rich browns can add glamour. Fabrics should have a luxurious feel to them—think faux furs, cashmere blends, and silken velvets. You don't have to go overboard with them, either. It can be as simple as a throw over an ottoman, table runner, or some throw pillows to create the effect.
If you follow these decorating tips, you'll have an Oscar-worthy room for entertaining–no gold statue necessary!