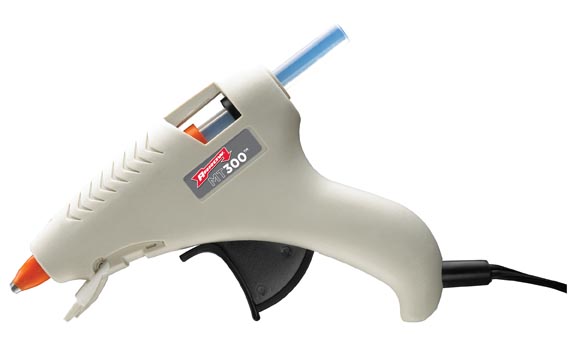 Creating a beautifully designed room is all in the details. It's the little thoughtful touches that truly create a memorable space. Those special moments that happen in the décor of a room don't have to be budget busters. With a glue gun, all of your design dreams are possible; it is such an amazing go-to tool that can quickly transform a ho-hum accessory into a standout feature in any space. A lampshade can go from plain to fabulous in minutes by applying layers of trimming to the bottom and/or top edges of the shade. Along the bottom edge a beaded or tasseled trim adds an element of fun or elegance depending on the trimming you select, so it is a great project for any room.
A glue gun can also help you create a unique table runner or table cloth with a few supplies that can turn your family dining table into a seasonal delight. Determine the dimensions of the table runner you want to create. Runners are generally 18″ wide but can be made narrower or wider depending on the size of your table. The length of your runner depends on your style and how much table you would like to expose. The runner can sit fully atop your table or run over the edges—it's totally up to you. If you do create a runner that overlaps the table's edge, keep seating in mind so the fabric doesn't get in the way of your guests seated at the heads of the table.
Cut your fabric to size, allowing an extra 2″ on both your length and width to finish your edges. When choosing your fabric, keep in mind that canvas is a great stiff and sturdy option that will work very well for this type of runner. You can find canvas by the yard in a variety of colors at your local fabric store or online. A fresh painter's tarp will work great as a table cloth since the backside is lined. The natural canvas makes a beautiful neutral base, but if you've got color in mind it can easily be dyed.
Fold over 1″ along each side of your runner and secure a crisp edge in place using your Arrow MT300 Glue Gun. You could of course sew the edges if you like, but a glue gun makes for a crafty quick project. Tip: Keep a dish of ice water nearby just in case you get hot glue on your finger. In the event that you do get the glue on your finger, dip it into the ice water to instantly cool the glue so you can pull it off burn-free.
Decorate the edges of your runner with the elements of your choice. Sheet moss, silk leaves, and greenery make for a beautiful display of the season to come. When arranging your items, be sure to apply them in layers to give your work depth and natural texture. You can use silk flowers, felt leaves, pieces of bark, shells; really anything that a glue gun will attach. The only limit is your imagination.