Holiday decorations play a starring role in creating the magic of the season. Lush green wreaths, big red bows and twinkling string lights go a long way in making spirits bright.
Plus, decking the halls is one of the best ways to get into the holiday spirit – just put on some Bing Crosby and you'll be singing while you decorate in no time.
However, if you don't have a smart strategy for hanging those decorations, you could leave your home worse for wear.
You don't want to put holes all over the place or use something that will damage the wall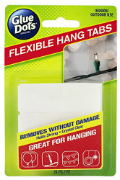 when you try to remove it. But at the same time, you want a secure attachment – otherwise, your careful handiwork could come crashing down during your family's viewing of "Rudolph."
For an easy way to hang decorations that will hold strong yet come off cleanly, new Flexible Hang Tabs from Glue Dots are a holiday must-have. They bond instantly to virtually any surface, including metal, wood, glass, plastic, paper, drywall, wallpaper, painted surfaces, cardboard, chipboard, laminate, acrylic, and stainless steel. They're also safe, non-toxic and mess-free, as well as crystal clear, so the focus stays on your beautiful decorations without any unsightly distractions.
Hanging holiday lights can pose a challenge, but Flexible Hang Tabs provide a simple solution for both interior and exterior decorating. When used with your indoor lights, they allow you to string them to mantels, staircases, entryways and more without damage. Just press the bulb through the tab and stick to the wall. Your lights will stay secure and you'll be able to remove them without a second thought.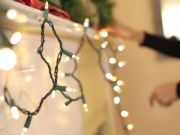 Flexible Hang Tabs are also ideal for hanging wreaths, ornaments, garlands, mistletoe and other lightweight holiday décor without damage to your home. Glue Dots Flexible Hang Tabs are available now at Amazon.com at a special launch price of $2.99 (40% off). With this worry-free holiday decorating solution, you can deck the halls with confidence and make your home truly memorable this year.