Do your shutters sag? Is your door a drag? Do you want a home about which you can brag? Enter the return of the front porch, one of America's hottest housing trends. Porches are one of the top remodeling projects today.
"The value of the front porch has been rediscovered and acknowledged to the point of being a requirement for homes in many new developments," said Richard Whitney, associate principal with FitzGerald Associates Architects in Chicago. "We've been providing them in a great deal of our single-family work."
Many families today are looking for a sense of community, and the front porch offers an opportunity to interact with the neighborhood. There's also the nostalgia of memories on the porch with parents and grandparents, not to mention the additional living space it can add to a home.
More homes are being built with front porches than ever. In the last decade, 50 percent of all single-family new homes had a front porch, according to the
National Association of Home Builders
, up from just 42 percent in previous years.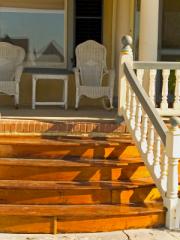 Determine your porch style
Your porch should follow the style of the home. If your home has a distinctive architectural style, such as Colonial, Greek Revival, Victorian, a rustic cabin or Arts & Craft, check out historical books to see how their porches were designed and accessorized.
If you have a modern, ranch or suburban track home, you probably have a blank slate from which to work. You can add a wrap-around porch to a two-story home to give it Victorian flair. Or, extend the porch on a ranch home and top with a flower-laden arbor to create bungalow style. You may want to consult an architect before beginning to ensure you have a solid plan in place for your new porch.
Start with your structure
Assess your home's structural elements as the starting point to determine if any
porch repair
projects are needed. If you have an existing porch in good shape, you can build from that. Check the railings, balusters, columns and roof overhang to make sure they are not subject to rot or insect damage. If so, consider replacing with modern composite materials that offer more durability.
If you are pouring a new porch and adding the supports and roof, use a reliable contractor for the structural elements. This will save you hard work and heartache in the future. You may want to use composite decking, railings and columns to make your porch low-maintenance.
Update your architectural elements
Your door and shutters are two things that make your home look dated. Replace your old wood door with a stylish,
energy efficient fiberglass entry door
from
Therma-Tru® Doors
. The authentic, realistic wood graining or smooth polished surface will add style to any home, while elegant glass brings class and light to the home. Shutters can be replaced with composite shutters that don't need painting.
Add decorative hardware and fixtures to complete the look. Brass is very traditional, while brushed nickel offers a contemporary look and black nickel adds to rustic or Arts & Crafts style. Door knockers, kick plates, lighting and house numbers should all be coordinated in the same metal finish for a clean look.
Accessorize with furniture and art
You've determined your style and completed your construction, now it's time to accessorize. If you have a Greek Revival or Victorian home, look at the new plastic wicker that looks real but stands up with weather and insects. Add floral or striped cushions to round out the look. For Arts & Crafts, consider mission-style furnishings or Adirondack chairs. Use warm colors for decorative fabrics and cushions. For a more rustic look, use split-hewn furniture, popular twig chairs and western-motif fabrics, and for a cottage or beach house, consider a rocking chair, hammock or chaise lounge for relaxing afternoons.
Add paintings, pottery and other decorative pieces that match your furnishings to complete your look. Use interior design books for guidance and export that style to your porch. Don't forget the furniture placement and lighting for creating a mood. Float furniture away from the wall to create conversation areas. Add lighting under the porch railings and up-light plants and paintings for subdued illumination. Use battery powered lamps and waxless candles for accent lighting. And, install a ceiling fan to create a gentle breeze.
Flowers add the final touch:
The final element needed to power your porch – flowers. Consider growing a climbing vine along the porch rail or up columns for a charming look and fragrant breezes.
Container gardens
are ideal for potted trees such as ficus or hibiscus surrounded by ivy and petunias.
For a rustic look, consider cactus and western plants that complement the style in hand-painted urns. For a modern porch, create simple arrangements with cut flowers and greenery in angular planters to support the clean lines and urbane feel.
If you follow these tips, you'll have a power porch to be proud of and an entryway to make the neighbors envious in no time. Just add lemonade and a good novel, and you'll be ready to rock.