If you're looking to increase your home's value without spending a lot of money, consider enhancing its curb appeal with a front door replacement. A home's exterior makes or breaks the first impression when prospective buyers see your home, and a spruced-up entryway can add as much as $24,000 to a home's perceived value, according to research commissioned by Therma-Tru Doors.
Your home competes for attention with the other homes in the neighborhood and even on your block. But you'll never get an offer if potential buyers don't make it past the front door. The good news is that you can give your home an inviting new look by simply upgrading your front entryway. It's one of the fastest, easiest and least expensive home improvements you can make.
Alt=Increase Home Value with a New Front Door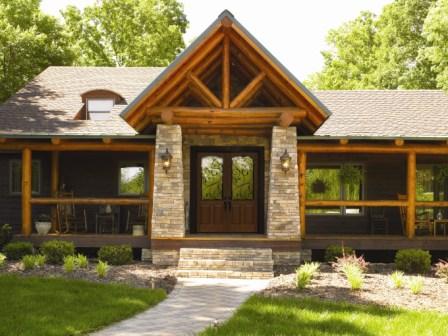 Whereas many doors are made of wood or steel, newer fiberglass materials and design options make the rich look of a wood door more affordable and easier to maintain. Fiberglass won't rot, swell or peel like wood, requires minimal maintenance, provides excellent thermal protection, and offers unlimited possibilities for styles and finish options.
Today's manufacturers also offer a wide array of choices for your home's entryway, from doors that complement your home's architectural style to custom looks using decorative glass, sidelights, transoms and more. Here are some tips for choosing a new front door that increases the value of your home.
Tip #1: Don't ignore the small stuff. Remember that an entryway is an entire system of components, not just the door slab. Look for a complete door system designed to work together with high-quality, durable components. From door hardware to beautiful glass sidelights and transoms, an attractive, high-performance entryway replacement can go a long way toward making your home more appealing and drawing potential buyers to at least look inside.
Tip #2: One door or two? If you have a single door, you can simply replace it with a new door in the same size. But if you add sidelights–stationary glass panels next to the door opening–you will enhance the beauty of the entryway and also bring more light inside the home to showcase its best features. If you currently have double doors, instead of simply replacing them, consider installing an extra-wide single door (three feet by six inches) and use sidelights to fill in the opening. Or, for a truly grand look, expand to double doors and add decorative glass sidelights and a transom window above. This may be a little more work, but it will transform your home with a completely new look and increase home value in the process.
Tip #3: Evaluate your current entryway. Check the front door opening to see what your home can accommodate structurally with a new door, measuring the height and width. Most doors are three feet wide and six feet eight inches tall, but some of the most popular doors are now three feet six inches wide and eight feet tall, so you may need to enlarge your opening. In addition, consider adding Dixie-Pacific columns on the outside of the home or Fypon's crossheads, which will not only add style and elegance but increase the home's value and appeal.
Tip #4: Assess what glass meets your needs. Adding decorative glass to your entryway can greatly enhance the curb appeal and perceived value of your home. For example, use decorative glass with wrought iron designs to add sophistication to a rustic or Spanish-inspired entryway; choose oval-shaped glass with curved or angled geometric designs to enhance a Victorian home; or select glass with crossover designs to add personality to a Prairie-style home.
Tip #5: What style is your home? Knowing your home's architectural style and what kind of statement you want to make with your entryway will help you narrow the choices for your new door. You can find doors and components to fit just about every architectural style. For example, Therma-Tru offers style-specific door collections, from its American Style Collection that complements Traditional or New American Style homes, to the Rustic Collection that is ideal for Southwestern or Old Tuscan style homes, to the Oak Collection that suits everything from Colonial to Contemporary architecture.
The Therma-Tru site also features an interactive Door Designer that allows you to match different door styles with glass sidelights, transoms, and stain and paint colors to create the look you want. Look to this tool and other design ideas offered at the local Therma-Tru distributor, lumberyard or home center as you select your front door replacement to increase the value of your home.