Energy efficiency and energy saving home improvements are some of the easiest ways you can reduce your environmental footprint and keep your home comfortable all year around. A great place to start is at the front door so your home will look good on the outside yet feel good on the inside. To help celebrate the 40th anniversary of Earth Day, here are some enery efficient home improvement ideas from Therma-Tru to make your home more energy-efficient:
Choose a fiberglass front door or patio door
. Therma-Tru fiberglass door systems are
ENERGY STAR®
qualified; provide five times the insulation of a wood door; will not rot, split or crack like wood; and will not rust, dent or ding like steel. The doors create the tightest seal possible; creating an energy-efficient envelope that stabilizes interior temperature and helps you decrease your home's energy costs.
This year, the ENERGY STAR program raised the bar for energy-efficient consumer products available on the market today. Under the new ENERGY STAR criteria, solid wood doors and even some fiberglass and steel doors have a very difficult time qualifying; however, over 94 percent of Therma-Tru's fiberglass and steel entry door systems meet these strict guidelines. The average R-value (measure of thermal resistance) of a Therma-Tru fiberglass door is almost as insulating as the wall of an average home.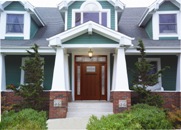 Preserve Natural Resources : Therma-Tru's proprietary AccuGrain® technology for the front door captures the fine graining detail of genuine high-end wood doors without harvesting endangered wood species like Honduran Mahogany. Plus, fiberglass doors offer superior durability and energy efficiency over wood doors. When making energy efficient home improvements, if you choose an energy efficient fiberglass front door over wood, you are greening your home… something that potential home buyers say they are looking for when house hunting, according to recent surveys.
Superior Energy Efficiency: When shopping for a new energy-efficient front door, one of the first things to look for is a door with Low-E glass to let light in without losing energy. Therma-Tru offers Low-E glass standard on a large selection of its clear glass door products. The company's Classic-Craft® fiberglass entry doors feature Low-E glass as a standard feature in non-decorative glass applications and the glass is available for many of its popular Fiber-Classic® and Smooth-Star® door styles. Low-E glass is more energy efficient than standard clear glass. It helps keep warm air inside during the winter months and helps prevent cool air from escaping in the summer months. When used in a fiberglass door, Low-E glass can help homeowners achieve superior energy efficiency.
Take advantage of tax credits:
As an added value, homeowners who purchase and install certain styles of Therma-Tru front doors may be eligible for a tax credit of up to $1,500 per household through the American Recovery and Reinvestment Act of 2009 (also known as the economic stimulus package). Visit

www.MyEnergyTax.com

for details.
By making energy efficient home improvements, you are doing your part to be green, and you are saving energy and money at home.