To assist homeowners in gaining up to $500 in federal tax credit when purchasing a qualified ENERGY STAR® exterior door, Therma-Tru Corp. now offers the MyEnergyTax.com website. The informative site provides step-by-step guidance, online links to IRS tax forms needed to claim the tax credit and a comprehensive listing of Therma-Tru® doors eligible to gain homeowners up to $500 in federal tax credits in 2011.
"As part of the Tax Relief, Unemployment Insurance Reauthorization and Job Creation Act (H.R. 483) signed into law on December 17, 2010; from January 1, 2011 through December 31, 2011 homeowners can complete the exterior door upgrade of their dreams and qualify for a tax credit of up to $500," says Shannon Sims, marketing communications manager at Therma-Tru. "This government program allows for a federal energy tax credit to homeowners, up to 10 percent of the cost of the product (up to a maximum $500) for taxable year 2011 for ENERGY STAR qualified exterior doors. The tax credit is for the cost of the product only and does not include the cost of installation."Alt=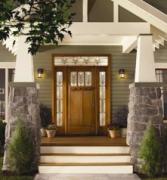 The MyEnergyTax.com website features resource links to the IRS, National Fenestration Rating Council and the government's ENERGY STAR program. A detailed question-and-answer section on the site makes it simple for homeowners to understand the qualifications for the tax credit.
"If a homeowner has been thinking about replacing their main entry door, this is an ideal time to take advantage of this federal energy tax credit," says Sims. "By adding a new fiberglass door to a home people can see daily savings on their energy bills. Fiberglass doors are four times more energy efficient than wood doors, so the savings continue long after the door has been installed."
To make it easy for homeowners to select a new energy-efficient entryway for their home, Therma-Tru has developed several on-line tools. The "Door Designer" program allows homeowners to select a house style that matches their own home. The next step is to select a door shape and style that are electronically inserted on the sample house. Homeowners can customize the on-screen entryway by "trying on" different door styles and glass packages, along with selecting various colors for the sample home's exterior, roof and façade.
The "My Saved Doors" tool allows homeowners to upload a photo of their existing home to the site and then browse Therma-Tru's online product catalog to select doors they like. The tool allows people to save the doors they select and make side-by side comparisons to the features they like best while looking at the picture of their own home on the screen. Finally, homeowners can save and print out their final selections to share with family and friends via e-mail, Facebook and Twitter.
Therma-Tru also also offers the Picture Perfect™ Virtual Designer that provides homeowners with the opportunity to upload pictures of their own home and make changes online by swapping in different door styles. Homeowners can contact their contractor or dealer to use this online tool or order a personal copy at www.thermatru.com/orderPP.
To view the extensive collection of fiberglass entry doors and decorative glass packages available from Therma-Tru, visit www.thermatru.com.