Fewer discoveries send homeowners into a full-blown panic faster than finding wood rot has set in, and on its way to seriously impact the structural integrity of your home. But while wood rot is a potentially a serious problem, when caught early it can be easily repaired without the need to replace any elements of your home impacted by areas of rot damage.
Rot Happens: Here's Why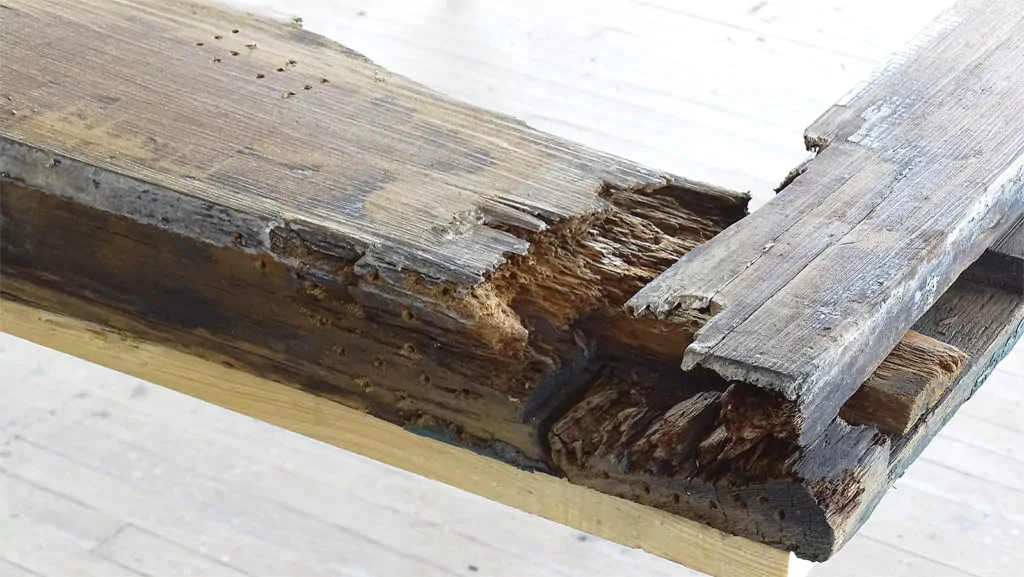 Wood rot is one of the many ways Mother Nature's breaks down wood into nutritious soil that can support forest growth, insect populations and many other marvels of our rich, natural environment. But when it happens to parts of your home, the impacts aren't quite so positive.
Rotted wood can compromise the structural integrity of supporting columns, or even cause floors, walls, or roofs to collapse and wreaking havoc on an otherwise solid home. Wood windows, doors, porch columns, siding, exterior trim and other places where wood gets wet, stays wet or may not have been painted frequently enough — can quickly deteriorate into a soggy, mushy mess.
Maintaining the exterior of your home can prevent rot. But skip a painting cycle, let gutters back up, miss a minor roof leak or fail to caulk around windows and doors, water seeps in, allowing decay organisms wake up and get to work turning those parts of your house into dirt!
The longer you wait to repair wood rot, the faster it gets worse. However, there's really no need to put it off. Today, a variety of products exist that can restore the strength to weak rotted wood.
Best Way to Repair Wood Rot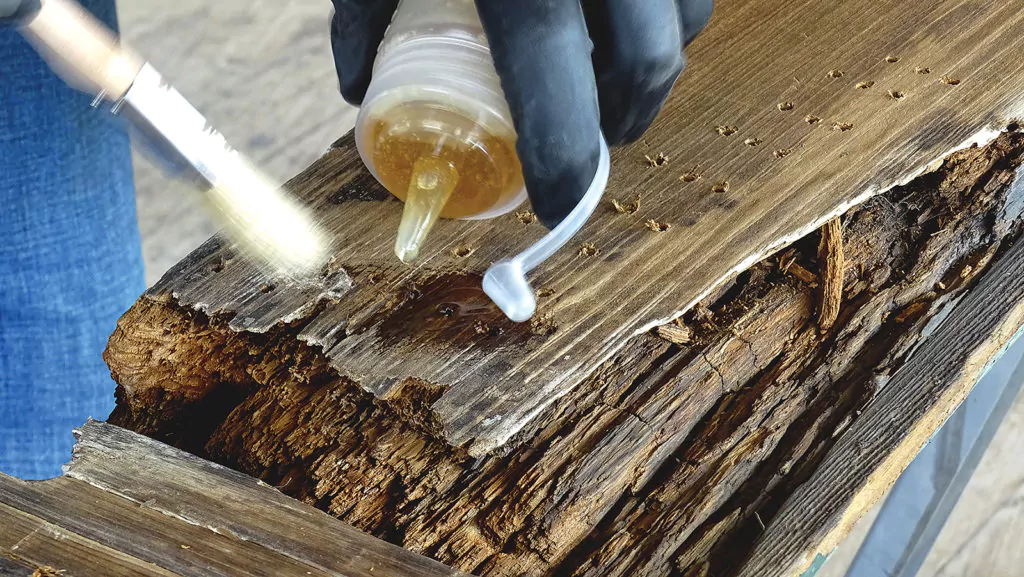 When rotted wood is discovered, you might think the damage wood has to be completely replaced. But tearing out and replacing a window or door, porch column or other part of your house that's suffered rot damage gets expensive. However, instead of replacing wood that rots away, there is a way to restore and rebuild these areas for a fraction of the cost of replacement.
With Liquid Wood and WoodEpox by Abatron, a crumbling piece of wood can be restored to a rigid, durable, water resistant material. Both products are high performance epoxy adhesives, and they work together to restore and rebuild rotted or damaged wood.
These products have a long history of restoration results. They've been used for decades to restore our nation's most popular structures, including Mount Vernon, the Statue of Liberty and even log cabins at Yellowstone National Park. That same technology can restore your home or building, and repair is a straightforward DIY project.
Abatron's Wood Restoration Kit includes both LiquidWood and WoodEpox, along with a set of handy accessories including disposable gloves, a plastic applicator bottle, putty knife, mixing containers and mixing sticks.
Using LiquidWood and WoodEpox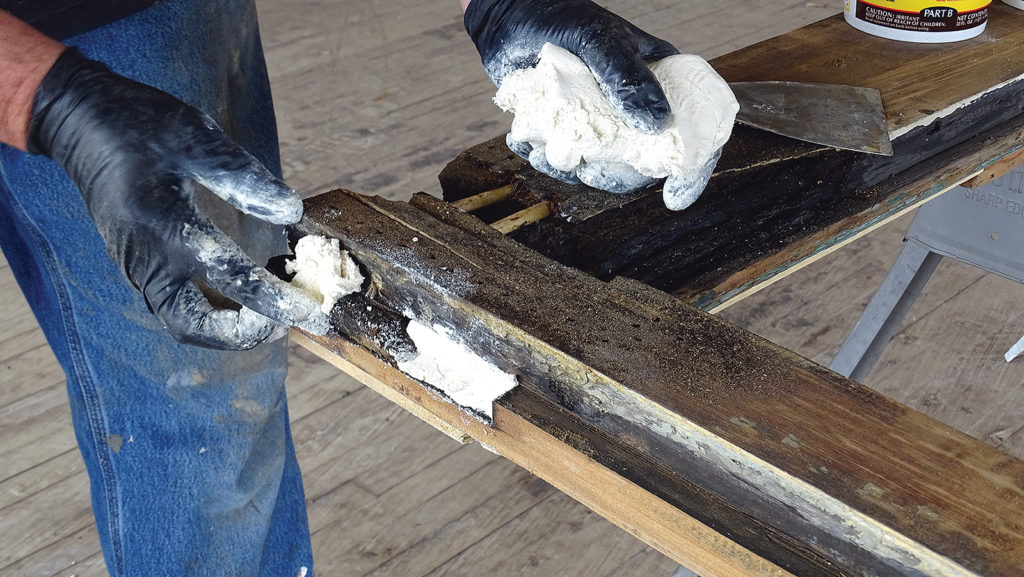 When using Liquid Wood and WoodEpox, repairing rotted wood is a simple, two-step process.
First, you'll apply the LiquidWood. LiquidWood is known as an epoxy "consolidant" because it takes that soft rotted wood and permanently restores its structural strength and durability. It's easy to apply and soaks deeply into the wood fibers without the need to cut out any of the damaged wood.
LiquidWood can be brushed, poured or injected using a plastic applicator bottle. For this part of the project, it's a good idea to wear disposable plastic gloves and protect the surrounding area from drips with plastic or other drop cloth. Once the LiquidWood is dry, the previously soft, deteriorated wood will be solid.
Next, if the wood rot is so bad that damaged areas have completely fallen away, WoodEpox can be used to fill in those voids and replace the rotted wood. WoodEpox is a shrink-free 2-part epoxy. Just mix equal parts to a putty like consistency and press in place. Once hardened, it can be sanded easily by hand, or with an sander. WoodEpox can hold paint year after year, even without a primer. It can be nailed or screwed into, as well as routed or carved for decorative effects. It can also be stained using conventional wood stains.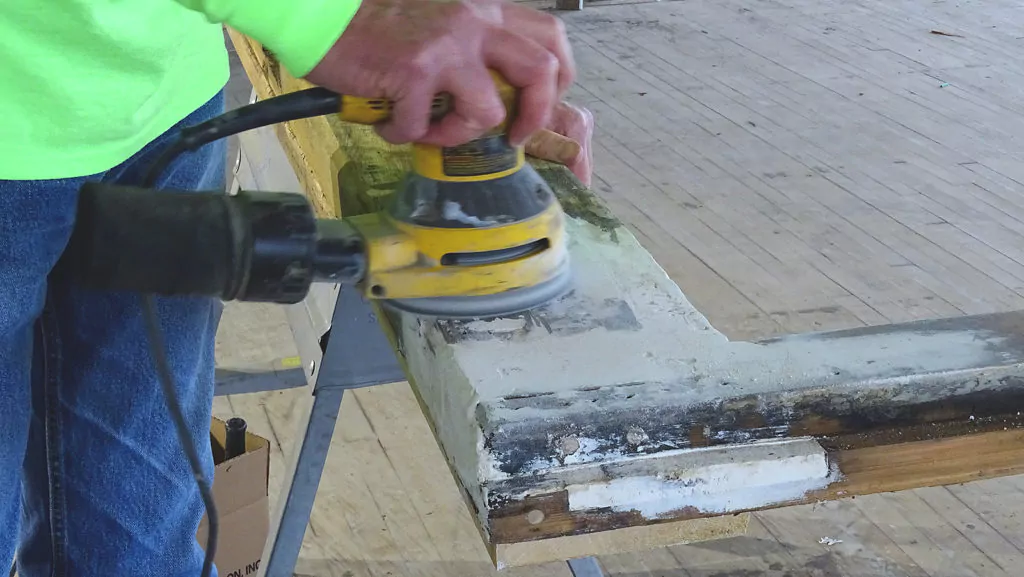 By using LiquidWood and WoodEpox to repair wood rot, you can make permanent, shrink-free repairs that retain the character of your home. Plus, you'll save money because you won't have to replace the damaged wood door, window or whatever part of your home needs the work.
LiquidWood and WoodEpox can be used to restore wood almost anywhere. They're ideal for both interior and exterior repairs because they are non-staining and permanent. They also contain no solvents or water and do not emit noxious odors.
You can find Abatron's LiquidWood and WoodEpox at Ace, True Value, Benjamin Moore and other retailers nationwide or at Abatron.com