If you're considering an energy efficient exterior door, now is the time to take action. There are new tax incentives for homeowners who replace older, less efficient doors with an energy efficient entry door. You could get a tax credit – up to $1,500 per household – for energy efficient improvements made now through next year.
The tax incentive, coupled with cutting utility bill costs, means that replacing an energy efficient entry door is a small investment you can make now for long-term savings. Here are three energy-and money-saving factors to look for when shopping for a new exterior door:
ENERGY STAR: Make sure any door you choose is both ENERGY STAR qualified, and meets the addition requirements for getting a tax credit. Essentially, the door must have both a Solar Heat Gain Coefficient and a U-Factor
National Fenestration Rating Council (NFRC) certified means that a product helps homeowners save money on energy costs and protects the environment through energy efficiency.
The R-Value, which is a measure of thermal resistance. The higher the R-Value of the energy efficient entry door, the better the insulation. For example, the typical R-Value of a six-panel wood door is a two whereas a fiberglass door system may have an R-Value of 10 or 12.
In the process of shopping for a new
energy efficient entry door
, you will have hundreds of different styles to choose from. While it can be overwhelming, the first step is deciding on the right material, like fiberglass, wood or steel — that will hold up to even the harshest environmental factors.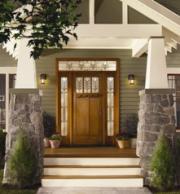 What sets fiberglass doors apart from the rest is that they won't rot, crack or split like wood doors and they won't dent, rust or corrode like steel doors. Fiberglass doors also offer five times the insulation of wood doors and can withstand a wide range of temperatures and weather elements including strong winds, high humidity and frequent rain. Meaning, an investment in a fiberglass door will eliminate the need for expensive and aggravating damage control in the future.
To make the door purchasing decision easier,
Therma-Tru Doors
proudly offers a variety of energy efficient entry doors made of fiberglass that qualify for the
entry door tax credit
. Therma-Tru doors are designed as a complete system with components that work together to form the tightest seal possible. This creates an energy-efficient entry door envelope for the home, stabilizing the interior temperature and decreasing energy costs. The average R-value of a fiberglass door is similar to the insulation value of the wall of an average home.
When shopping for an energy efficient exterior door, remember that beauty and performance are only part of the decision process. It's also important to know that the brand you will buy has a strong reputation for sustainability and a commitment to you and to the environment.
How energy efficient is your exterior door right now? Here are some ways to determine whether your current door is really keeping your conditioned air inside and external elements outside:
Hold a candle to the wind. Using a lighted candle carefully, follow the outline of the exterior door around its frame on a windy day. You'll see the candle flicker at every point where air is passing through the opening.
Look for the light. On a bright day, stand in your foyer and look for daylight flowing through the exterior door opening. If light is coming in, so is external air. Your weatherstripping may have lost compression, or you may have a warped door or frame.
Take the touch test. Touch your exterior door on hot days and cold days. If you feel the exterior temperatures on the inside surface, your door may not have adequate insulation.
Watch the weatherstripping. Low-quality weatherstripping can lose its compression over time, opening the exterior door to air infiltration. Look for flat or cracked weatherstripping that is no longer doing its job.
Sill the deal. Your entry door sill and bottom door sweep prevent air infiltration and water penetration. Try to slide a piece of paper under your exterior door. If you can, you'll likely need to adjust or replace your bottom sweep.
It's an open-and-shut case. Finally, open and shut your door on both dry days and wet, humid days. If your door fits tightly on humid days, then it is probably leaking air on dry days. You may want to consider a high-performance door such as fiberglass to prevent swelling.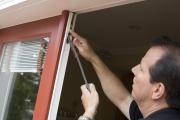 If you find that your exterior door is not efficient, there are several things you can do yourself to help create and energy efficient exterior entry door:
Replace the weatherstripping. Adding new weatherstripping is a simple solution that can greatly reduce air infiltration. Your local hardware store will be able to recommend the product best suited to your exterior door.
Adjust the hinges. Loose hinges or low-quality hardware can create gaps. Tighten the screws in existing hardware or consider replacing hardware with high-quality brass or brushed steel components.
Level the exterior door sill. Many times, the door sill can settle, opening gaps for air. Purchase shims from your local hardware store to reset the sill so it is flush with the door bottom, and consider replacing or adjusting the bottom sweep to create a tighter seal.
Upgrade the lock. If your lock is not installed properly or isn't the right size, it won't keep the door seated squarely in the door frame. Carefully measure your existing lock and door, and look for high-quality brass or brushed steel replacement locks.
Install fiberglass doors.
By installing fiberglass doors with decorative glass, you can add beautiful curb appeal to your home and have an energy efficient entry door —- and let the sun shine in. To learn more about energy efficient entry doors, visit
www.ThermaTru.com
.