Decorating your home for the holidays is a popular seasonal pastime that brings joy to both homeowner and the entire neighborhood. And a great place to kick off that décor project is your front door. Many homeowners view their entryway as a sign of the quality of their home, and the holidays are the ideal time to show it off. A festive holiday entry can be the home's focal point and serve as a first impression for both its interior and exterior.
The experts at Therma Tru, a leading manufacturer of fiberglass entry doors, offer tips for creating a warm and inviting entryway during the holidays:
Hang seasonal door decorations
Consider a twig wreath adorned with greens, gourds or berries
Design a heart-shaped wreath with miniature pine cones and dye them a brilliant shade of red
Mount an evergreen wreath or swag with glass ornaments or silver bells
Create a wreath with magnolia leaves and fresh fruit such as pears, apples and pomegranates
If you have a rustic style home, consider adding antlers, a cowboy hat or rope to your wreath
For a coastal home, consider a wreath of woven sea grass with sea shells or a brightly painted life preserver with lights and decorative glass floats
If your door doesn't merit all the attention, consider wrapping it in bright paper with a large bow or framing it in lights
Hang a set of sleigh bells on the door knob, which will give a festive jingle every time guests pass through
Add accessories around the doorway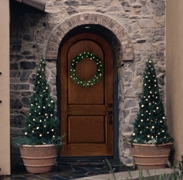 Frame your entryway with a garland and lights – add bows or pine cones for more decorative detail
Place pots or urns planted with seasonal greenery, poinsettias and lights on either side of the doorway
Put out a welcome mat designed with holiday accents
Add new brass or nickel accents such as a kick plate, porch lights and a door knocker to dress up your door
Hang matching wreaths and candles in all of the windows
Paint your door
If it's not yet too cold to paint outdoors, brighten up your door with a fresh coat of red paint or a strong color that provides contrast to your current color scheme
When decorating, be careful to protect your door. Avoid putting a nail in the face of the door, as this can lead to damage later on. Instead, use a door hanger to hang the wreath from the door knocker, or place a tack on the top of the door frame and use clear fishing line to hang the wreath.
In addition to these simple design tips, you may also want to consider taking advantage of this opportunity to update your entryway with a new, energy-efficient door system. Fiberglass is growing in popularity with homeowners because the doors are easy to maintain and will withstand a wide range of temperatures and weather elements such as strong winds, high-humidity and frequent rain. What's more, fiberglass doors offer four times the insulation of wood and won't rot, crack or split like wood doors, or dent, rust or corrode like steel doors. The doors are ENERGY STAR qualified, providing excellent thermal protection and comfort for your family and holiday house guests. And as an added value, homeowners who purchase and install certain styles of Therma-Tru doors may be eligible for a tax credit of up to $1,500 per household through the American Recovery and Reinvestment Act of 2009. But hurry! This program is due to expire on December 31, 2010. Visit www.myenergytax.comfor more information.
A home break-in would surely spoil the joy of the holidays, so it's a good time to re-visit your home's security. The entry and patio door are prime targets for intruders seeking holiday loot. Thanks to an adjustable security strike plate that provides resistance up to three times the industry standard, Therma-Tru fiberglass doors are more resistant to forced entry than wood doors. In fact, the Home Safety Council, which recognizes manufacturers who incorporate safety innovations in their products, has honored Therma-Tru's fiberglass doors. In addition, fiberglass doors can be produced to meet fire resistance standards that provide added safety and peace-of-mind, and Therma-Tru's hand-made decorative, break-resistant tempered glass provides protection from intruders and the elements.
For more information on Therma-Tru doors, visit www.thermatru.com. Be sure to check out "My Saved Doors," a feature that lets you mix and match door types/colors, glass styles and other components to create your favorite designs. You can then share them with others, invite comments and feedback, and contact a dealer to get a quote.
And remember that decorating your home for the holidays can help create a warm and inviting front entry, and a great first impression.