You want a miter saw, not a might-or-might not saw, so Ryobi has loaded this one with features that improve your accuracy and remove the guesswork from miter cuts. Ryobi's 10- and 12-inch miter saws feature the Exactline laser alignment system, for accurate cutting of expensive hardwood, molding and baseboard.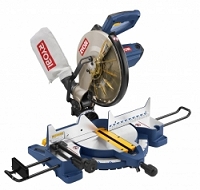 There are also positive stops at nine different cutting angles. Added features like an electric blade brake and extension rails with stop block help you to be accurate AND fast while making multiple cuts.
For even more convenience, Ryobi's Miter Saw QuickSTAND accommodates nearly all brands of miter saws with blades up to 12 inches and features quick connect/release mounting brackets for easy saw mounting and removal. The Ryobi miter saw and other Ryobi tools are found exclusively at The Home Depot. Visit www.RyobiTools.com for more info.