Blount, the world's largest manufacturer of saw chain, announces the launch of the new OREGON® PowerNow™ 40V MAX* Cordless Chainsaw.
For the first time, a battery-powered chainsaw delivers a combination of performance and features that make it a true alternative to many gas-powered chainsaws.
For removing trees, cleaning up after a storm, pruning large branches or clearing debris from property, you can depend on the OREGON PowerNow 40V MAX Chainsaw.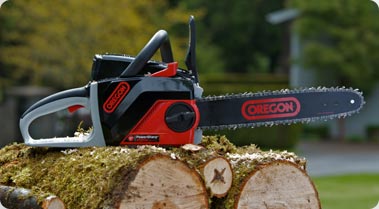 The new OREGON PowerNow Chainsaw, with its lithium ion battery pack, offers instant starting without a pull cord, powerful cutting with no-fade power, and long runtime. It is a smarter, quieter way to work free from the hassles of gasoline or cords. When not in use, the lithium ion battery pack holds a charge for months at a time, so the PowerNow Chainsaw is ready when you are.
Equipped with a 14″ bar, the PowerNow Chainsaw can power through logs as large as 10 to 12 inches. For smaller cuts, the chainsaw goes non-stop, cutting up to 250 two to three inch (2-3″) branches on a single charge with the Endurance battery pack.
The PowerNow Chainsaw is much quieter than gas-powered chainsaws in use and is silent between cuts. At just under 11 pounds, the PowerNow Chainsaw is lightweight, easily portable and offers ergonomic comfort.
"Many people use gas-powered chainsaws because they don't believe that cordless electric chainsaws have the power to perform," said Alan Lofurno, Business Unit Director, PowerNow Tools. "That has all changed with the new OREGON PowerNow Chainsaw. Not only is the PowerNow Chainsaw powerful, but itis free from the hassles of gasoline or power cords."
The PowerNow Chainsaw features the PowerSharp® built-in chain sharpening system so you'll never cut with a dull chain again. When the chain dulls, simply pull the PowerSharp Lever for 3 to 5 seconds with the saw running and the chain will work like new.
Watch the OREGON® PowerNow™ 40V MAX* Chainsaw in action: www.OregonPowerNowTools.com