After a brutal winter and a stormy spring, your deck may be due for some TLC to restore it for outdoor summer fun and protect it through the seasons ahead. Wood decks require a good cleaning and re-staining every few years to keep them looking great, and BEHR's Premium Exterior Weatherproofing Wood Stains and Finishes go beyond waterproofing to weatherproof and provide a halo of protection against every weather extreme.
BEHR's line utilizes a 100 percent acrylic formula that protects decks, siding and fences from sun, rain, snow and ice. It also allows the stains and finishes to penetrate even more deeply into wood fibers and provide a superior adhesive bond with the wood substrate. Made with NanoGuard® technology, the formulation was developed to enhance resistance against moisture, UV damage and stains, and the result is improved surface protection and longevity. An additional benefit is better adhesion, which reduces the likelihood of peeling, improves performance over knots and increases color retention.
While you're perusing BEHR's palette of solid and semi-transparent Weatherproofing Wood Stains and Finishes for that just-right shade, take some time to reference online and in-store resources to provide assistance with determining product amounts for varying project sizes, applicator recommendations, product variety selection and project inspiration. Before beginning your project, the experts at BEHR recommend the following steps when checking out your deck for problems: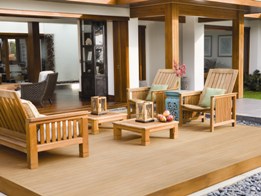 Look for loose or corroded fasteners.Nails and screws can loosen or break as a deck settles, and it's easy to trip and fall over a loose board. Instead of nailing the boards back into place, remove nails and use deck screws. This is easily done with an inexpensive attachment to your power drill.
Check for split or cracked boards. If you discover any severely cracked deck boards, these can be removed, flipped over and reattached. Since the underside of the board hasn't been exposed to the sun, it is very likely in almost as good a shape as it was when the deck was first built.
Check your railings and banisters. There should be no movement or "give" when you push against railings and banisters. Also take the time to ensure that no balusters are loose or missing.
Clean your deck. Use a broom or hose to clear away any leaves or other debris. For a more thorough cleaning, use a solution of three quarts water, one quart bleach, and a half cup of ammonia-free detergent (caution: do not mix ammonia with bleach, as it can form a dangerous gas). Apply the mixture to the deck with a stiff floor brush and let it sit for a few minutes, then rinse thoroughly. You can also use a solution made with hot water and powdered laundry detergent, which will act as both an abrasive and a cleanser. Pressure washers can provide a good, strong spray to help clean your deck, but be careful. If the spray is too strong or you hold the nozzle too closely to the deck surface, you can easily damage or splinter the wood. Often, a strong spray from a garden hose nozzle is all that is needed.
BEHR's Premium Solid Color Weatherproofing stain is available in over 1,600 colors, has been formulated for computer color-matching, and provides a finish with visible wood grain. BEHR Semi-Transparent Weatherproofing Stain comes in 83 custom colors, and all stain varieties are available in eight-ounce samples that allow you to test color and opacity before making a deck finish decision. BEHR's how-to guides and Inspiration Imagery Gallery also offer great deck advice and ideas and the WoodSmart application on www.behr.comoffers more information on wood care, projects and products to fit all of your project needs.
BEHR Premium Exterior Weatherproofing Wood Stains and Finishes are available exclusively at The Home Depot stores. Visit www.behr.com for more information, and follow BEHR on Twitter at twitter.com/behrpaintand friend BEHR on Facebook at facebook.com/BehrPaint.