DIY Farmhouse decor is hitting stores shelves like crazy. Whether you're into the floral arrangements, greenery, wall art, or rustic pieces… you're bound to find something you like these days. The problem is – some of those adorable prearranged faux flowers sell for $20 or more!
Well, with a few creative strokes, you can save your money because and create your own rustic, farmhouse decor charm with items found at the dollar store! Follow along to be inspired and find out how you can create affordable, eye-catching decor for your home.
1.
Rustic Milk Jug Vases
There are a variety of vases you can find can find at dollar stores or thrift stores to fit a DIY farmhouse decor. For this rustic decor piece, you will want to focus on finding vases that mimic old milk jugs. Paint you jugs with a matte or chalk paint, and put a few of your favorite faux flowers inside. The dollar store carries an assortment of gorgeous faux flowers or find lots of flower options under $10 on Amazon. To add more detail, consider wrapping some twine around the top of your vases, or sanding over your paint to give a more distressed look.
2.
Cheese Grater Wall Decor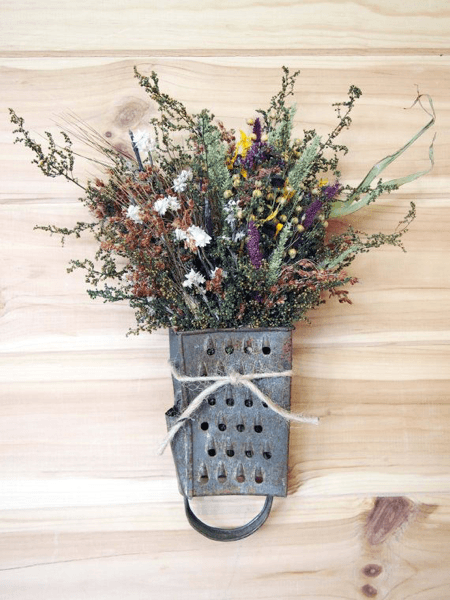 Who would have ever thought that a cheese grater on your kitchen wall, would turn so many heads?
This DIY farmhouse decor piece is crazy unique and looks amazing. Find a box-shaped cheese grater from the dollar store or thrift store. Paint your cheese grater if you want it to be a specific color or sheen. Find an old cutting board, or pick one up from the dollar store. Next, close off the top opening portion of the grater – try to glue in a thick piece of cardboard. Then turn it upside down and attach it to your cutting board (use E6000 for a durable hold). Place kitchen utensils or faux flowers in the opening of the grater… and don't forget to hang up a towel to match your kitchen decor.
3. DIY Farmhouse Decor Topiary Balls
This is a simple way to add some faux greenery to your space and add some dimension to your room. You will need candlestick holders – preferably thicker holders, faux greenery, and a round base (either a floral styrofoam sphere or a smaller ball from toy section). All of these materials can be found at Dollar Tree. You will then cover your ball with adhesive and attach your moss. Feel free to use something other than moss if you would prefer. Complete this home decor piece by attaching the moss ball to a candlestick holder. See a secondary option, here.
4. Cheese & Sugar Shaker Decor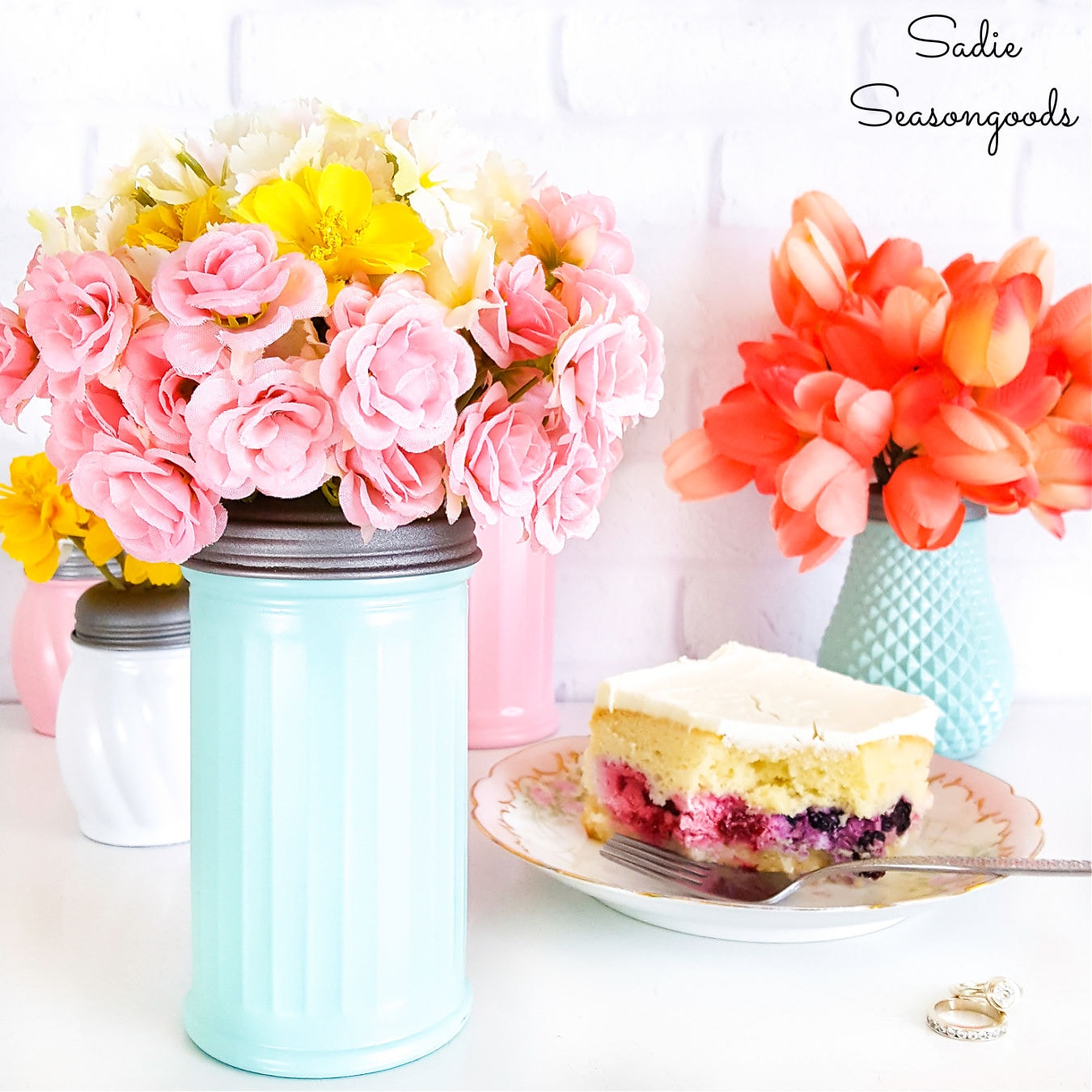 Photo credit: Sadie's Seasoned Goods
Pick up a few cheese and sugar shakers from the dollar store to complete this DIY farmhouse decor project.
Upon gathering your shakers – be ready to create some adorable farmhouse floral arrangements. Begin by painting your shakers whichever colors you prefer… a milky white/beige chalk color does an excellent job at giving the distressed, rustic farmhouse look. However, if you have an accent color that you want to be more present, try using your accent color.
Once painted, put lids back on and insert florals through the pouring holes! It is as easy as that.
5. Tiered Trays
There are so many different ways you can create tiered trays for your home. Piece together trays and bowls to hold your fruit, store your jewelry and hair accessories, or create a tiered tray to show off your floral arrangements and burn candles.
Pick out the materials you want to use. This can all be found at the dollar store, but if you're looking for unique pieces consider checking out what the thrift store has to offer. To piece your tiered tray together, use E600 glue – it is meant for glass and is very strong. If you're using plastic or lighter-weight materials to create your tray, hot glue will work fine.
Bonus Tips:
Spray paint over items you wish to change the look of.
Painting your materials is also a great way to provide a different finish (matte, glossy, etc.).
Use various shapes such as plates and bowls for the top tier.
Practice your placement before you glue anything in place.
6. Serving Platter Wall Art
The final DIY home decor piece is simple and the design possibilities are infinite.
Begin by purchasing a serving platter from the dollar store. Paint the platter if you desire with your favorite colored paint. Spray paint works wonderfully, but be sure you are applying smooth and even layers. Complete this project by adding your favorite quote to your platter, welcoming guests to your kitchen, or printing out a picture of your favorite farm animal(s) and stenciling their shadows onto your platter. The great part about these dollar store serving platters is that they weigh nearly nothing, so you can simply glue on a sawtooth hanger and hang your sign wherever you please.