LESLIE: Well, when you look up, is the view less than exciting? Decorative ceilings could be your solution.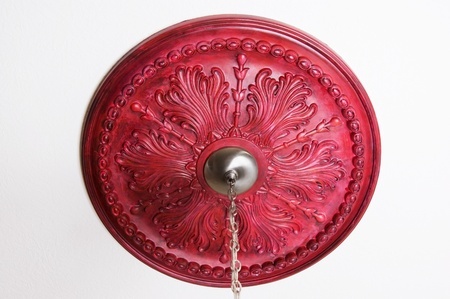 TOM: You know, with decorative ceilings, you can turn your blank and bland ceiling into an architectural showpiece. Here to tell us how is This Old House general contractor Tom Silva.
Welcome, Tom.
TOM SILVA: Thanks. It's nice to be here.
TOM: I think that homeowners that are looking to add interest to their sort of charmless ceilings really should be considering what they could do to decorate them. Because it really can be a key architectural element of the room, right?
TOM SILVA: Absolutely. I think the first thing that comes to mind – everybody thinks crown molding is the way to dress up a room. It's that final touch there and it's great.
TOM: Right.
TOM SILVA: It can be challenging to install. And you can build up the crown molding from a simple crown molding to multiple layers of crown molding.
TOM: Well, you're right. So crown molding is difficult to install. But I've seen now foam crown molding that seems to adhere with caulk. And you can practically cut it with a utility knife. That seems to be the good DIY option, right?
TOM SILVA: It's a great DIY option. I've actually installed it with joint compound, where you could butter up that edge of the joint compound on the top and the bottom of the crown molding. You can push it into the ceiling and into the wall. And the nice thing about that: it actually fills the gap between the ceiling and the wall and you just wipe it off with a wet sponge.
TOM: So when it's painted, really can't tell the difference?
TOM SILVA: You can't tell the difference. You can also fill the joints with a joint compound, too. So if you're really sloppy …
TOM: That makes a big difference because you don't have to do the math surrounding the compound miter cut.
TOM SILVA: Right, exactly. Exactly. Yep.
LESLIE: Another easy solution, I think, are ceiling medallions. And while they were a very traditional look, I feel that there's some modern designs kind of coming back with medallions. And it's a good option.
TOM SILVA: It's a great option. Polyurethane today. Before, they were heavy plaster and they were either made in a mold and then picked up and then stuck to the wall with plaster. But today, you can use a polyurethane and they can duplicate any medallion that you want with a three-dimensional camera and so on. We've done them on a This Old House project and they're pretty cool.
TOM: Now, what about tin ceilings? Tin ceilings are a very traditional, old ceiling. A lot of options. Besides the original tin, you could go with a drop ceiling that looks like tin, today, right?
TOM SILVA: Yeah. They have a drop ceiling. You see them a lot in hotels and restaurants that you really – they have great spaces, they go in quickly.
TOM: Right.
TOM SILVA: A tin ceiling can be time-consuming because lots of times, you put a plywood sheathing over the ceiling first and then you staple them in.
TOM: Right.
TOM SILVA: And then, around the perimeter, they actually have the crown-molding detail that's tin, also. It's tricky and you want to use gloves because the edges can be sharp. But it makes a huge difference.
TOM: Sure.
LESLIE: I think that tin ceilings just look so beautiful but there are so many other options. I've seen coffered ceilings and tray ceilings. And I think a lot of people get confused. And unless you've got an architect or a builder who's kind of into doing something like that, which might not be the easiest to find, how do you sort of know if that's going to work for your space?
TOM SILVA: Right. We do a lot of coffered ceilings because some of the stuff that we have is high and you want to bring that ceiling down into place.
TOM: Right.
TOM SILVA: And there's all kinds of details that you can do. You can do a large square in the middle with little rectangles and squares in the corners. Or you could do multiple square options and then you can really dress up the beams around the coffered ceiling with crown moldings or cornice moldings and …
LESLIE: This all sounds very expensive, by the way.
TOM SILVA: It is very expensive.
LESLIE: OK. You're like, "And this molding and that molding and another molding."
TOM SILVA: Well, if you think about it, if you do a simple crown molding around a room and then you say, "Well, I want to dress it up," you may have three or four buildups of crown molding. So you're not going around that room once; you could be going around four times. So it makes a big difference.
TOM: Now, Tom, a lot of folks think that anything but a white ceiling makes the room look small. Do you run across those types of objections with your customers?
TOM SILVA: I very rarely do a white ceiling.
TOM: Right.
TOM SILVA: It's always got a little bit of a tint to it, a little bit of – less of a sheen to it. A lot of people like flat ceilings. I like a little bit of a sheen to it. And lots of times, we'll pick from the color of the trim and then take the white and put a little bit of the color of the trim in the white so that it blends and softens it a little bit.
TOM: But it doesn't necessarily make the room look smaller.
TOM SILVA: No, no. I think it really warms it up.
TOM: Yep, exactly. A little contrast is a good thing.
LESLIE: Mm-hmm. There's one that's Benjamin Moore I like. And I think it's called Blush and it's like a super-super-soft pink/white.
TOM SILVA: Yeah.
LESLIE: And it has this warm skin tone, almost, to it that when you have a beautiful chandelier in a bedroom, you know, it just kind of gives a really nice ambiance to the space.
TOM SILVA: Right. We just did one on the This Old House project where we discovered an old, plastered ceiling up underneath the ceiling that had been lowered in the 60s. Because that was pretty common.
TOM: Was common, right.
TOM SILVA: Yeah, they were trying to save energy, so they have less cubic feet. But we discovered a beautiful crown molding that we had to fix – it was plaster – and then the medallions.
So what we did is we painted the trim and the crown one color and we painted the ceiling a color that would blend. And the medallion was also painted the color of the trim. But you – it was just a – such a subtle difference but it really set things off.
TOM: I bet that was one magnificent transformation, something that you do quite frequently.
Tom Silva from TV's This Old House, thanks so much for stopping by The Money Pit.
TOM SILVA: Well, thank you. It's nice to be here.
LESLIE: Alright. You can catch the current season of This Old House and Ask This Old House on PBS. For local listings and step-by-step videos of many common home improvement projects, visit ThisOldHouse.com.
TOM: And This Old House is brought to you by Lumber Liquidators. Lumber Liquidators, hardwood floors for less.