LESLIE: Well, if you flip through any lawn or garden magazine, you're sure to come across landscapes that include arbors and pergolas. These wooden yard structures are so beautiful and well within most DIYers' reach.
TOM: That's right. And here with tips for building both, we welcome This Old House general contractor Tom Silva.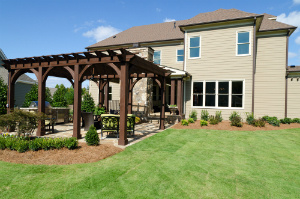 Welcome, Tom.
TOM SILVA: Nice to be here, guys.
TOM: Now, this is a project that I think a lot of folks are interested in because outdoor living is so important today. We want to get outside and really enjoy that space, kind of treat it like an extension of our own living rooms or kitchens or the places that make us comfortable. These are the types of additions that can do that. Let's start by talking about what the difference is between an arbor and a pergola. So what's an arbor?
TOM SILVA: Well, think of an arbor as almost like an accent piece that gets you into the front entry of your house or maybe into a garden. It's like a doorway to the outside of your garden. To walk through this little entryway.
TOM: So it's just a nice, architectural feature that kind of helps to establish the space.
TOM SILVA: Right.
TOM: So what's a pergola?
TOM SILVA: A pergola is like a free-standing structure, usually with four legs, maybe six legs, depending on your design. And it's a place that you can sit under and entertain.
TOM: Now, does it have a permanent roof?
TOM SILVA: It doesn't have a permanent roof. Lots of times, you have the plants that will grow up over the roof or the ceiling of it. It's because the roof design, in lots of cases, are strips of wood or lattice and that allows the plants to grow on it.
TOM: Now, because it's a fairly large structure, it's going to have some weight to it, some heft to it. Does it have to be properly secured to the ground, just like you would any deck, for example?
TOM SILVA: Well, it has to be secured to the ground properly, so you're probably going to have to go into the ground, at least to your frost line, because you don't want it to come up and down. But I guess the biggest thing you want to think about with a pergola is whether or not you need a building permit to build it. Because you don't want to have that thing built and then find out that you're too close to the lot line or you had to go down a certain depth for your footings. And you want to make sure that you've done all that right.
TOM: Now, what about an arbor? That sounds like it's a lot simpler project.
TOM SILVA: Arbor is a lot simpler. An arbor is that entryway into your garden or whatever. And you put some lattice work on it and you've got a nice little place to grow some plants.
TOM: Now, let's talk about materials. There's a lot of choices out there in weather-resistant materials. If you just wanted to tackle a project yourself, you're a DIYer, would you simply start with pressure-treated?
TOM SILVA: Pressure-treated is a great way to start; I mean it's inexpensive wood. Or you can go the next route up: you can go to a cedar. A red cedar is not as good as a white cedar but it will hold up and give you some life. If you wanted to use an accent wood, like an oak, I would stay away from red oak because it won't hold up to the weather. A white oak will hold up but you're going to have to really treat that wood and make sure you really treat the part that goes into the ground.
TOM: Now, it occurs to me that this may be the one and only time you can do a really, really good job finishing this wood structure because, especially if you're going to put vines on it, you're never going to get them off.
TOM SILVA: Right.
TOM: You can't mask around the ivy.
TOM SILVA: Right, right.
TOM: So, what would you actually do on finishing these before you actually start your planting?
TOM SILVA: If you're going to use pressure-treated, you've got to think about how you're going to finish it if you don't like the natural look of that wood. And it can be a real issue later on when the plants start growing.
TOM: Great point. Tom Silva from TV's This Old House, thank you so much for stopping by The Money Pit. Can't wait to get started. Perhaps you will tackle it, as well, this weekend.
TOM SILVA: Thanks, guys. It's always nice to be here.
LESLIE: Alright. Catch the current season of This Old House andAsk This Old House on PBS. For local listings and step-by-step videos of many common home improvement projects, visit ThisOldHouse.com.
TOM: And This Old House and Ask This Old House are brought to you on PBS by GMC. GMC, we are professional grade.