The outdoor room has become a big selling point for homes these days. It's the center of family relaxation and enjoyment – the place we love to be whenever the weather permits. If you'd like to freshen up your outdoor space this summer to add beauty and value, these 5 upgrades are just the ticket.
Table of Contents

[Hide]

[Show]
Fiery fire pit focal point
First, think about adding a fire pit, which has really become the centerpiece of outdoor living. There are lots of options. You can go with a simple, portable cheap fire pit or you can do a custom-built structure. Pavestone's stackable RumbleStone blocks make it easy to create a DIY fire pit enclosure. Assembly is simple, with no cutting required, and the result is a firepit with rustic, Old World charm. A fire pit is really going to be that one element that lends ambiance and creates a focal point for gatherings.
Dazzling outdoor decor
Next, does your outdoor area have all the basics, but lack personality? Why not give the term "outdoor room" a more literal meaning by adding some furnishings and accessories? Decorative pillows, outdoor rugs, mirrors and even statuary can lend color and pizzazz to your space. Just look for all-season finishes and materials to ensure these items will continue to look their best. Make sure any fabrics are weather-resistant, and that cushions have weather-resistant foam inside, as well.
Portable blooms
A container garden brings color and natural beauty to an outdoor space and can be enjoyed with minimal maintenance. Just follow a few common-sense steps to ensure a successful project. For the best results, first choose the locations where you'd like your containers to be, and track how much sun and shade they get throughout the day. This will impact not only which types of plants will thrive there, but also which container materials you should use. For example, in relentless sunlight, inexpensive plastic pots can fade and deteriorate and terra cotta pots can dry out quickly. On the other hand, in damp areas, wooden containers are prone to rot.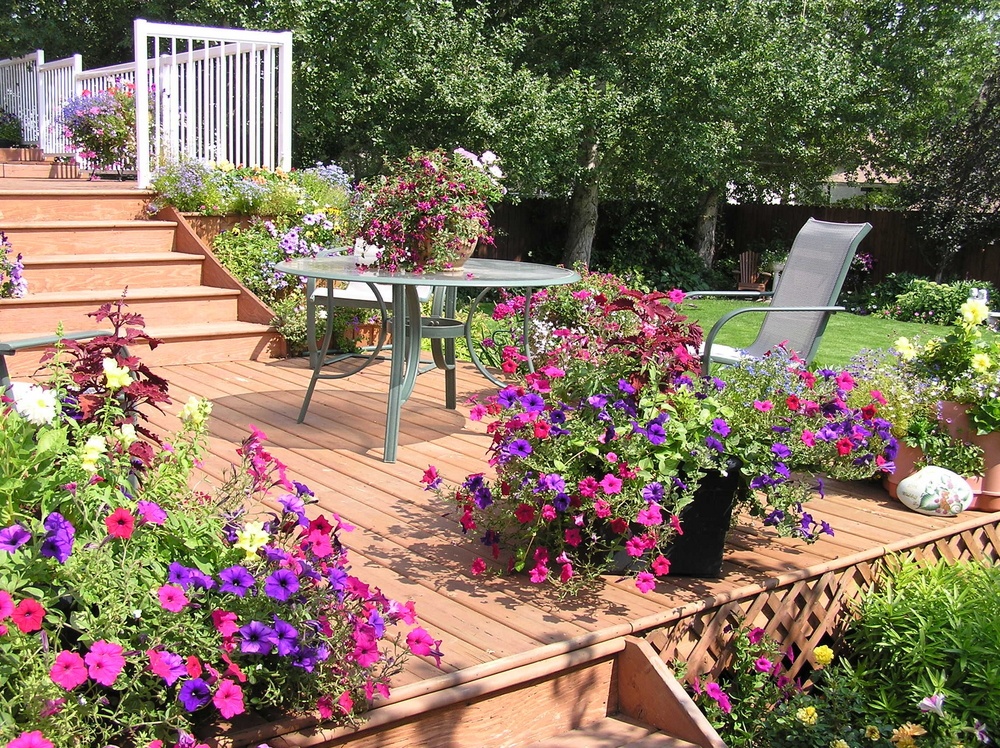 In every case, select containers with wide openings. As a rule of thumb, if you have a container that's 18 to 24 inches wide, you want no more than 3 to 5 plants to give them ample space. You'll also want to look for containers with dependable drainage systems (or drill drainage holes yourself). Also invest in saucers, blocks, risers or rolling platforms to encourage drainage and help protect surfaces.
Light the night
You can also get creative with exterior lightscaping. A well-designed exterior lighting scheme will light up your yard's best features while also extending your time outdoors well past sunset. You want to look for low-voltage units made of durable materials, like copper or brass. If you're working with a limited budget, no problem. Pick up some solar lights. They are a DIY installation and they work really well, especially around this time of year.
Extend use
Finally, for true year-round comfort, you might want to consider enclosing your patio or deck. This doesn't mean you have to lose the outdoorsy feeling altogether. Many enclosures are mostly glass, so you can still feel like you're outside even when you're staying toasty and warm.
A well appointed outdoor space is the perfect setting for warm weather relaxing and entertaining. By undertaking any of these 5 upgrades, you'll be adding to the enjoyment and value an outdoor room provides.