That beautiful designer deck you've spotted in a favorite home magazine doesn't have to remain a dream. In fact, it can be a dream-come-true solution to creating additional living space and boosting the value of your home. A deck is a sound investment, and a cost-effective way to expand square footage and complement your home's style.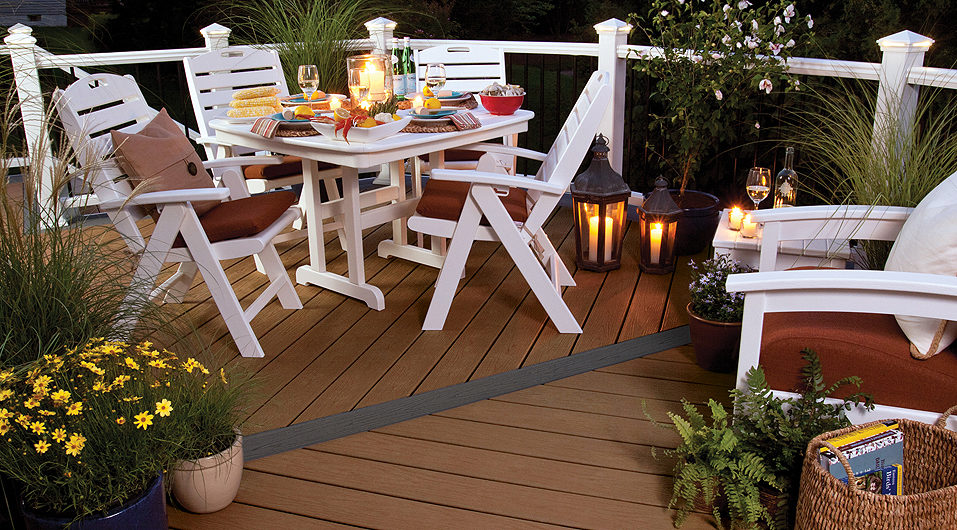 Custom elements and a layout that makes the most of outdoor views, natural shade and overall yard size mark the difference between a standard deck and a dream deck. As you design your deck, consider special details like rounded corners and serpentine lines, step-up lounging areas, and built-in pergolas that bring in greenery as well as extra shade. Decking and railing colors also contribute to the style statement and a photo-worthy finish.
You can create all of these dream-deck features with wood-alternative Trex Enhance decking, in stock now at The Home Depot. Trex Enhance comes in Beach Dune, a warm honey brown hue that complements nearly any exterior. With beauty that's engineered to endure, Trex Enhance offers a deeper, more natural wood-grain appearance and a low-sheen luster.
For a custom look, Trex Enhance in Beach Dune may be mixed and matched with Trex Railing in a variety of colors. And adding Trex Hidden Fasteners creates a smooth, seamless deck surface free of nails and other visible fasteners. Further personalize your new outdoor oasis with deck lighting, comfortable furniture and decorative accessories, all for a result that's worthy of the same magazine photo features you've been admiring.
Start planning your custom deck creation with a visit to your local Home Depot store or homedepot.trex.com, where you'll find even more ideas for making your dream a reality.