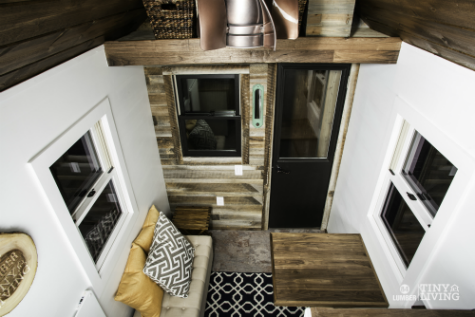 Tiny homes have become all the rage. While some may find the idea of living in such small quarters crazy, many people are attracted to the concept of downsizing their possessions and simplifying their lives, as well as the affordability and environmental responsibility that tiny houses can offer.
In response to the tiny house trend, building materials supplier 84 Lumber has introduced a new line of portable tiny homes. Already known for offering building packages for structures like barns and garages, 84 Lumber is now the first-ever major retailer to offer custom-built houses no bigger than 200 square feet.
With its national footprint, 84 Lumber is making tiny homes accessible on a large scale, offering the ability to order its new line of tiny homes in any of its 250 stores around the country. The line includes four models (one out now and three coming soon) available under three packages that range from fully DIY to move-in ready. Each model can be customized and all range in size from 150 to 200 square feet.
For the serious DIYer, the Build Your Own package starts at $6,884 and includes a tiny home trailer – outfitted with a subfloor and ready for walls – plus architectural plans and a list of needed materials which can all be purchased at a local 84 Lumber. The Semi-DIY package starts at $19,884 and includes a "shelled in" tiny house on a trailer – equipped with windows, doors and a shower – plus architectural plans and materials list. The Move-in Ready package, starting at $49,884, is a completed tiny house fully outfitted both inside and out. These homes take eight to 10 weeks for custom assembly.
84 Lumber's four tiny home models range in architectural style from cabin-like to cottage-like to sleek and modern. The first model, available for purchase now, is the Roving (interior pictured above). Measuring 154 square feet, it features cedar-lap siding, a metal roof, walnut-stained vaulted ceiling, reclaimed wood accent wall, custom-designed barn door, and a loft bedroom with a full-sized bed. The kitchen has walnut butcher-block countertops, a stainless steel sink, and a built-in kitchen table.
The Roving model also offers eco-friendly features including LED lighting, low-E windows, cork flooring, water-efficient faucets, composting toilet, full insulation, and an Energy-Star certified refrigerator.
The models slated for release later this year are the Degsy, the Shonsie and the Evergreen. You can learn more about 84 Lumber's new line of tiny homes at www.84tinyliving.com.