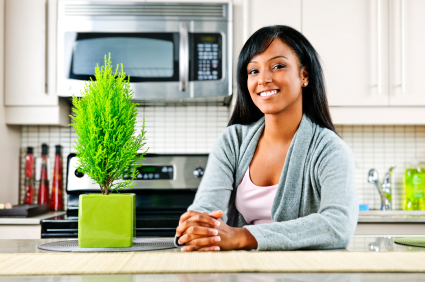 The long, dark, cold days of winter tend to give project-loving homeowners the blues. But you don't have to wait for spring to add cheer. A few thrifty home improvement projects can spruce up your home and your spirits. Here are some ideas on how to beat the winter blues.
First of all—this may sound obvious, but bear with me—turn on some lights! This might be a good time to add a lamp or sconces to a gloomy room. Adding warm light throughout your home makes a big difference.
You might also consider planting an indoor garden. You can plant colorful flowers or something edible to remind you of Spring. If you go the edible route, just make sure you choose a location with plenty of sunlight, as certain vegetables need as much as six hours of direct sunlight to grow and thrive. You'll also need room for containers about 18 inches in diameter and 18 inches deep. And don't forget about water! You can actually get mini-greenhouses online these days, and with more people container gardening, seed companies are working on vegetables specifically bred to be grown indoors.
One last idea for a winter pick-me-up involves a quick facelift for your home's entrance. I always like to pay special attention to front doors. They can be a great welcome for you when you've been out in dreary weather. If you don't have the budget to paint or get a new door, just polish the hardware! I promise it will make a noticeable improvement that will make you smile every time you see it. You can also get an inexpensive new doormat and boost the lighting on your front porch to the maximum wattage allowed by the fixture. That should make you feel a little cozier as you hibernate for the winter.